Analysis of Islamic Law on Vehicle Parking Payments in Panyabungan City
Raja Ritonga

Stain Mandailing Natal

Lia Pratiwi Daulay

Sekolah Tinggi Agama Islam Negeri Mandailing Natal
Keywords:
Parking; Ticket; Ijarah; Islamic law
Abstract
The phenomenon of parking area management is becoming very trendy at this time. However, the practice of paying parking leases is not without problems. One of them is the practice of parking and paying at Panyabungan. This study aims to describe the practice of paying for parking in Panyabungan. Because of this, this research will describe how the parking payment system in Panyabungan City is and how Islamic law views this parking payment. The research method used in this research is field research, namely research with data obtained from field activities. Methods of data collection by using the method of observation, interviews and documentation. Furthermore, the data that has been obtained is analyzed qualitatively by forming conclusions through deductive. The results of the study explain that the parking payment system in Panyabung does not include tickets or other proof of payment. This is because the parking rate stipulation from the Transportation Service as the basis for enforcing the amount of the figure has not been fully implemented. Meanwhile, Islamic law stipulates that the contract of a transaction must be carried out in a transparent and mutually acceptable manner.
Abstrak: Fenomena pengelolaan areal parkir menjadi sangat trend pada saat ini. Namun, praktek pembayaran sewa parkir tidak luput dari sejumlah permasalahan. Salah satunya adalah praktek parkiran dan pembayaranya di Panyabungan. Penelitian ini bertujuan untuk mendeskripsikan terkait praktek pembayaran parkiran di Panyabungan. Karena itu penelitian ini akan menggambarkan bagaimana sistem pembayaran parkir di Kota Panyabungan dan bagaimana analisis hukum Islam tentang pembayaran parkir tersebut. Metode penelitian yang digunakan dalam penelitian ini adalah penelitian lapangan yaitu penelitian dengan data yang diperoleh dari kegiatan lapangan. Metode pengumpulan datanya dengan menggunakan metode observasi, wawancara dan dokumentasi. Selanjutnya data yang telah diperoleh dianalisis secara kualitatif dengan pembentukan kesimpulan melalui deduktif. Hasil penelitian menjelaskan bahwa sistem pembayaran parkir di Panyabungan tidak menyertakan karcis atau bukti pembayaran lainnya. Sebab ketetapan tarif parkir dari dinas Perhubungan sebagai dasar pemberlakuan besaran angka belum diberlakukan sepenuhnya. Sementara itu, hukum Islam menetapkan bahwa akad suatu transaksi harus dilakukan secara transfaran dan sama-sama ridha.
Kata Kunci : Parkir; Karcis; Ijarah; Hukum Islam
References
'Azam, Abdul 'Aziz Muhammad. 2005. Al-Qowa'id Al-Fiqhiyah. Kairo: Dar El Hadith.
Al-Zuhaili, Wahba. 2004. Fiqh Islam Wa Adillatuhu. Beirut: Darul Fikr.
An-Naisaburi, Al-Imam Abul Husain Muslim bin al-Hajjaj al-Qusyairi. 2000. Shohih Muslim. Kerajaan Arab Saudi: Darussalam.
Daulay, Lia Pratiwi. 2021. The Results of an Interview with One of the Informants. Panyabungan.
Enik Andriani, Ashadi, Jabal Nur. 2020. "Praktek Tukang Parkir Liar Dalam Perspektif Hukum Islam Studi Kasus Di Baruga Kota Kendari." Fawaid Sharia Economic Law Review 2(2):184–95.
Fikri, Rahmad. 2018. "Identifikasi Penerapan Akad Dalam Pembiayaan Pemilikan Rumah Pada Bank Muamalat Dan Bank Tabungan Negara Syariah Cabang Malang." Jurnal Ilmiah Mahasiswa FEB 7(1).
Ibnu Rusyd. 1960. Bidayatul Mujtahid. Kairo: Mustafa al-Halaiy.
Indonesia, Kementerian Agama Republik. 2014. Al- Qur'ân Al- Karîm Dan Terjemahannya. Surabaya: Halim.
Katsir, Abu Fida' Ismail bin Umar Ibnu. 1999. Tafsir Al Qur'an Al 'Adzhim. II. Riyad: Daar Thoibah.
Khallaf, Abdul Wahab. 2002. Ilmu Ushul Al Fiqh. Kairo: Dar El Hadith.
Lembong, Syalom W. J. Gerungan Anna Wahongan Roy. 2015. "PERTANGGUNGJAWABAN PERDATA PENGELOLA PARKIR TERHADAP KENDARAAN KONSUMEN."
Mahmud, Al-Zamakhsyari bin Umar. 2009. Tafsir Al-Kasyāf. III. Beirut: Darul Ma'arif.
Parmitasari, Indah. 2016. "Hubungan Hukum Antara Pemilik Kendaraan Dengan Pengelola Parkir." Jurnal Yuridis 3(1):20–36.
Raja Ritonga, Lia Pratiwi Daulay. 2021. Results of Observations and Field Notes. Panyabungan.
Ritonga, Raja, and Endah Nopita Sari. 2021. "Pendapat Ulama Madzhab Terhadap Denda Pada Praktik Mindringan." El-Faqih: Jurnal Pemikiran Dan Hukum Islam 7(2):2021.
Sabiq, Sayyid. 2004. Fiqh Sunnah. Kairo: Daar Hadis.
Setiawan, Puguh, Raja Ritonga, and Kalijunjung Hasibuan. 2022. "Quality Of Human Resources in Waqf Institution: Counterproductive Study on Muhammadiyah Charity Business." Quality - Access to Success 23(187):222–31. doi: 10.47750/qas/23.187.28.
Suryahartati, Dwi. 2019. "Perjanjian Penitipan Barang Dalam Pengelolaan Parkir Bagi Perlindungan Konsumen Di Indonesia." Acta Diurnal Jurnal Ilmu Hukum Kenotariatan Dan Ke-PPAT-An 2(2):252. doi: 10.24198/acta.v2i2.102.
Vipriyanti, Sevira, and Meirinawati Meirinawati. 2021. "Kualitas Pelayanan Parkir Berlangganan Untuk Meningkatkan Pendapatan Retribusi Parkir Di Dinas Perhubungan Kabupaten Tuban." Publika 9(2):227–40. doi: 10.26740/publika.v9n2.p227-240.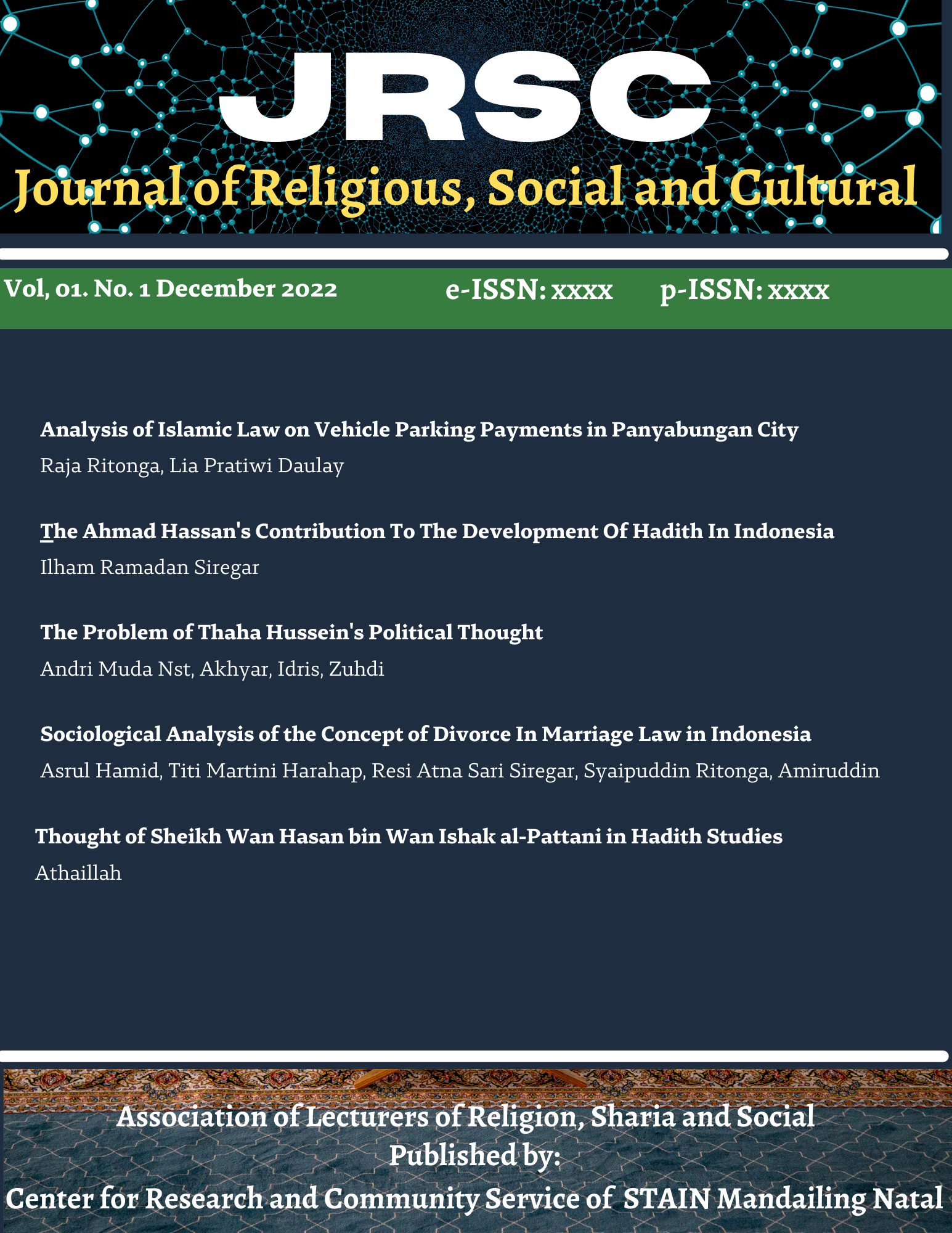 How to Cite
Raja Ritonga, & Daulay, L. P. (2022). Analysis of Islamic Law on Vehicle Parking Payments in Panyabungan City. JRSC: Journal of Religious, Social and Cultural, 1(1), 1-19. Retrieved from https://jurnal.stain-madina.ac.id/index.php/religi/article/view/1038

This work is licensed under a Creative Commons Attribution 4.0 International License.