The Ahmad Hassan's Contribution To The Development Of Hadith In Indonesia
Ilham Ramadan Siregar

STAIN Mandailing Natal
Keywords:
Hadith, Ahmad Hassan, Indonesia
Abstract
:Ahmad Hassan is a moderate cleric who advocates the renewal of Islam with his slogan kemabli to the Koran and Hadis. Ahmad Hassan is a reformer who contributed to his thinking in the field of hadith. Ahmad Hassan considered that the predominance of the school Muslims had hindered the interaction of the people with the Koran. In this paper, we will discuss hadith's thoughts and the contribution of Ahmad Hassan in the studying of Hadith in Indonesia. This research uses a qualitative method of the library research approach. The results of this study show that Ahmad Hassan plays a role in the freedom to understand religious teachings without being bound by a school, according to him, this thinking is expected to reduce obstacles to the progress of the people due to the shackles of the taklid mazhab which has been a tradition since centuries ago. So it can be concluded that Ahmad Hassan is a figure of Hadith figures and scholars who have conducted Hadith studies and played an active role in purifying Islamic teachings in Indonesia.
References
Ahmad Hassan. 2003. Soal Jawab Tentang Berbagai Masalah Agama. Bandung: Diponegoro.
Al-Khatib, Muhammad Ajjaj. 1980. Ushul Al-Hadis. Beirut: Dar al-Fikr.
Amin, Muh. 2019. "Pendidikan Islam Masa Penjajahan Belanda Dan Jepang." Jurnal Pilar 10(2):1–11.
Federspiel, Howard M. 2001. Islam and Ideology in the Emerging Indonesian State; The Persatuan Islam (PERSIS) 1923-1957. Boston: Brill.
Hasudungan, Anju Nofarof. 2021. "Pelurusan Sejarah Mengenai Indonesia Dijajah Belanda 350 Tahun Sebagai Materi Sejarah Kritis Kepada Peserta Didik Kelas Xi Sman 1 Rupat." Widya Winayata: Jurnal Pendidikan Sejarah 9(3):129. doi: 10.23887/jjps.v9i3.39395.
Herry Muhammad. 2006. Tokoh-Tokoh Islam Berpengaruh. Jakarta: Gema Insani.
Hizbullah, Nur. 2020. "Ahmad Hassan : Kontribusi Ulama Dan Pejuang Pemikiran Islam Di Nusantara Dan Semenanjung Melayu." Buletin Al-Turas 20(2):285–96. doi: 10.15408/bat.v20i2.3761.
Indonesia, Kementerian Agama Republik. 2014. Al- Qur'ân Al- Karîm Dan Terjemahannya. Surabaya: Halim.
Luth, Tohir. 1999. M. Natsir Dakwah Dan Pemikirannya. Jakarta: Gema Insani.
Mahmud, Mohammad, and Ridha Nurul Arifah. 2020. "HADIS DI MATA SANG PEMBELA ISLAM: Studi Pemikiran Hadis Ahmad Hassan." Riwayah : Jurnal Studi Hadis 6(1):125.
Mughni, Syafiq A. 1994. Hassan Bandung Pemikir Islam Radikal. Surabaya: Bina Ilmu.
Rasyid, Aguswan, Mahyudin Ritonga, Ahmad Lahmi, Talqis Nurdianto, Raja Ritonga, and Supardi Ritonga. 2020. "What AL-Quran Say About 'Aql." European Journal of Molecular and Clinical Medicine 7(11):228–34.
Sari, Maula. 2020. "Pemahaman Hadis A. Hassan Dalam Perspektif Sosiologi Pengetahuan." Diroyah : Jurnal Studi Ilmu Hadis 4(2). doi: 10.15575/diroyah.v4i2.4643.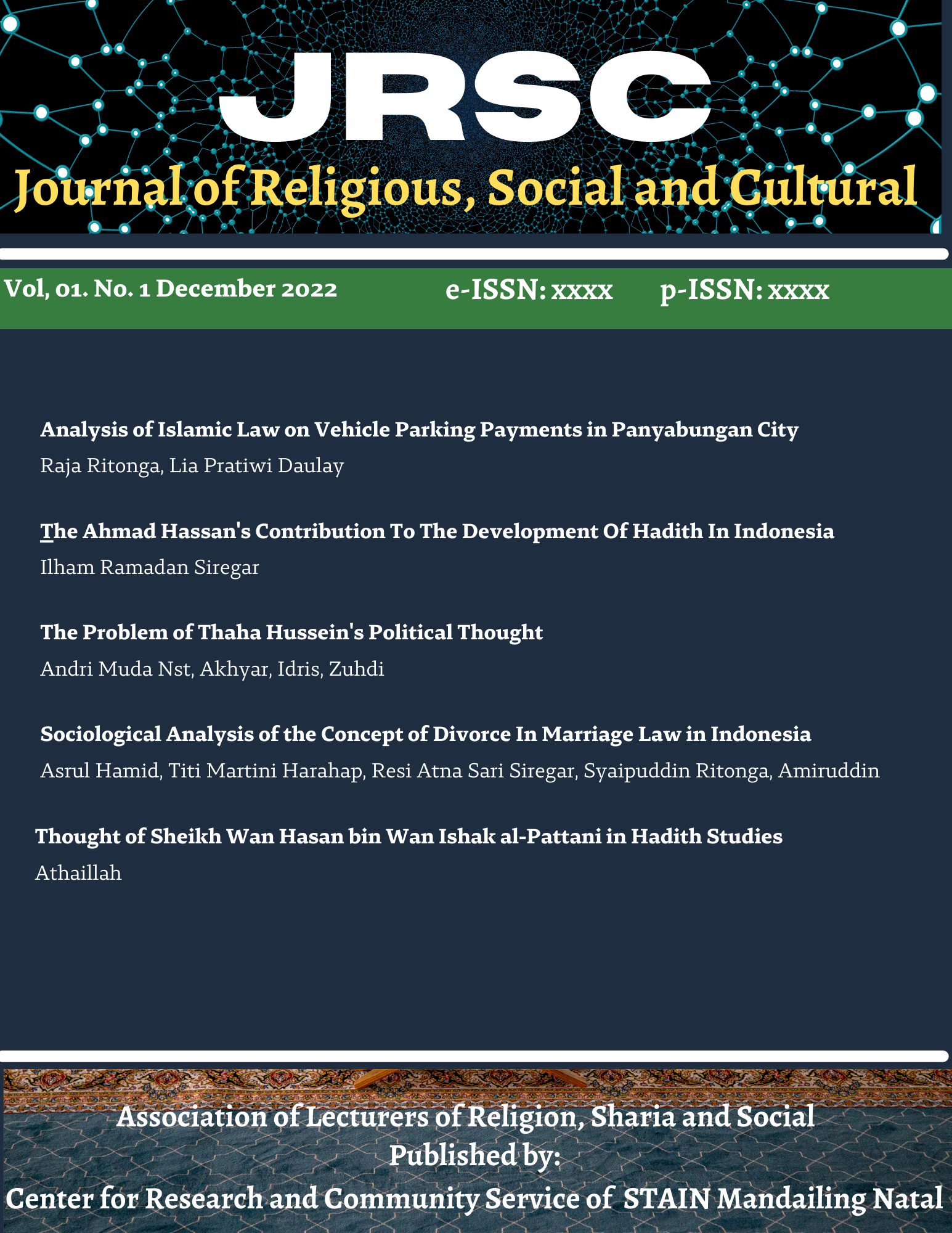 How to Cite
Ramadan Siregar, I. (2022). The Ahmad Hassan's Contribution To The Development Of Hadith In Indonesia. JRSC: Journal of Religious, Social and Cultural, 1(1), 20-31. Retrieved from https://jurnal.stain-madina.ac.id/index.php/religi/article/view/1118
Copyright (c) 2022 Ilham Ramadan Siregar
This work is licensed under a Creative Commons Attribution 4.0 International License.

This work is licensed under a Creative Commons Attribution 4.0 International License.