Digital Marketing Sebagai Strategi Komunikasi Pemasaran Rayyan Aqiqah Dalam Menjangkau Target Pasar
Arfan Aulia Rachman

Universitas Islam Negeri Sumatera Utara
Keywords:
Digital marketing, Marketing communication strategy, Rayyan Aqiqah, Target market
Abstract
Entering the era of marketing 4.0, marketing methods have shifted or transformed from traditional/conventional ways (offline) to electronic or digital ways (online), namely marketing methods using digital devices, namely websites and social media. This concept has begun to be applied by Aqiqah and food catering business actors in the city of Medan, namely Rayyan Aqiqah in marketing their service products anytime (real-time) and anywhere if connected to interconnection networking (internet). The problems raised, namely:. How is the digital marketing as strategy Rayyan Aqiqah's to reach its target market. This study uses a qualitative descriptive research with a phenomenological approach regarding digital marketing as a marketing communication strategy for an Rayyan Aqiqah in reaching the target market, then analyzed by data reduction, data presentation, and drawing conclusions. While the theory used in this research is the theory of integrated marketing communication strategy, Digital marketing strategy element Digital Comersialitation 4C Thomas Joseph theory, and marketing communication digital strategy AISAS model Dentsu theory. The results of this study explain that the Digital Marketing concept implemented by business people, namely Rayyan Aqiqah has succeeded in promoting, marketing and obtaining a more massive target market, namely prospective consumers to use service and product service in digital media and are able to maintain bussiness continuity against bussiness competitors kind.
References
Abiubaidah. (2015). Jurnal Fikih Kontemporer : Tantangan Teknologi Modern Bagi Seorang Muslim. (Bandung : Sekolah Tinggi Agama Islam (STAI)
Akun Facebook Rayyan Aqiqah. Diakses pada 21 Oktober 2022 dari https://m.facebook.com/Rayyanaqiqah.id/
Akun Instagram @rayyan aqiqah.id dan @aqiqah.medan.id. Diakses pada 20 Oktober 2022 dari https://www.instagram.com/medanaqiqah/p/Bql08OLnFug/?hl=bg
Alexander, Pullizi. (2009). Marketing Journal. Baltimore : Baltimore University (sudah dialih bahasakan ke bahasa indonesia)
Anang, Firmansyah. (2020). Komunikasi Pemasaran. Jakarta : Prenadamedia Grup
Armstrong, Gary, dkk. 2013. Marketing an Introduction 6th Edition. Canada: Pearson Education Inc.
Belch, George E. & Michael A. Belch. (2007). Advertising and Promotion: an Integrated Marketing Communication Perspective. New York: McGraw-Hill/Irwin.
Darwin, Waizly & Hermawan Kartajaya. (2016). Connect! Surfing New Wave Marketing. Jakarta : Gramedia Pustaka Utama
Efriyanto. (2011). Analisis Isi: Pengantar Metodologi Untuk Penelitian Ilmu Komunikasi dan Ilmu-Ilmu Sosial Lainnya. Jakarta: Kencana Prenadamedia Group.
Emile, Warn. (2014). Technologic and business journal : 3rd edition. New York : New York University (sudah dialih bahasakan ke bahasa indonesia)
Hasil observasi, dokumentasi dan wawancara di kantor Rayyan Aqiqah. (2022)
Morissan. (2010). Periklanan Komunikasi Pemasaran Terpadu, Cetakan 1. Jakarta: Kencana.
Pusat Bahasa Departemen Pendidikan Nasional RI. Kamus Besar Bahasa Indonesia Edisi Ketiga. Jakarta: Balai Pustaka.
Riyanto, Andi Dwi. (2022). Hootsuite (We Are Social): Indonesian Digital Report 2022. Diakses pada 26 September 2022 dari https://andi.link/hootsuite-we-are-social-indonesian-digital-report-2022/
Sanjaya, Stephen. (2015). Jurnal ilmukomunika. Bandung : Universitas Padjajaran
Sari, Ningrum. (2011). e-journal affiliate marketing. Jakarta : Binus University
Sugiyono. (2016). Metodologi Penelitian Kuantitaif, Kualitatif, dan R&D. Bandung: Alfabeta.
Sugeng, Kurniady. (2003). Komunikasi pemasaran. Jakarta : Rajawali press
Tjiptono, Fandi. (2001). Strategi Pemasaran. Yogyakarta: Andi Offset.
Website rayyan aqiqah.com. Diakses pada 26 september 2022 dari https://rayyan.medanaqiqah.com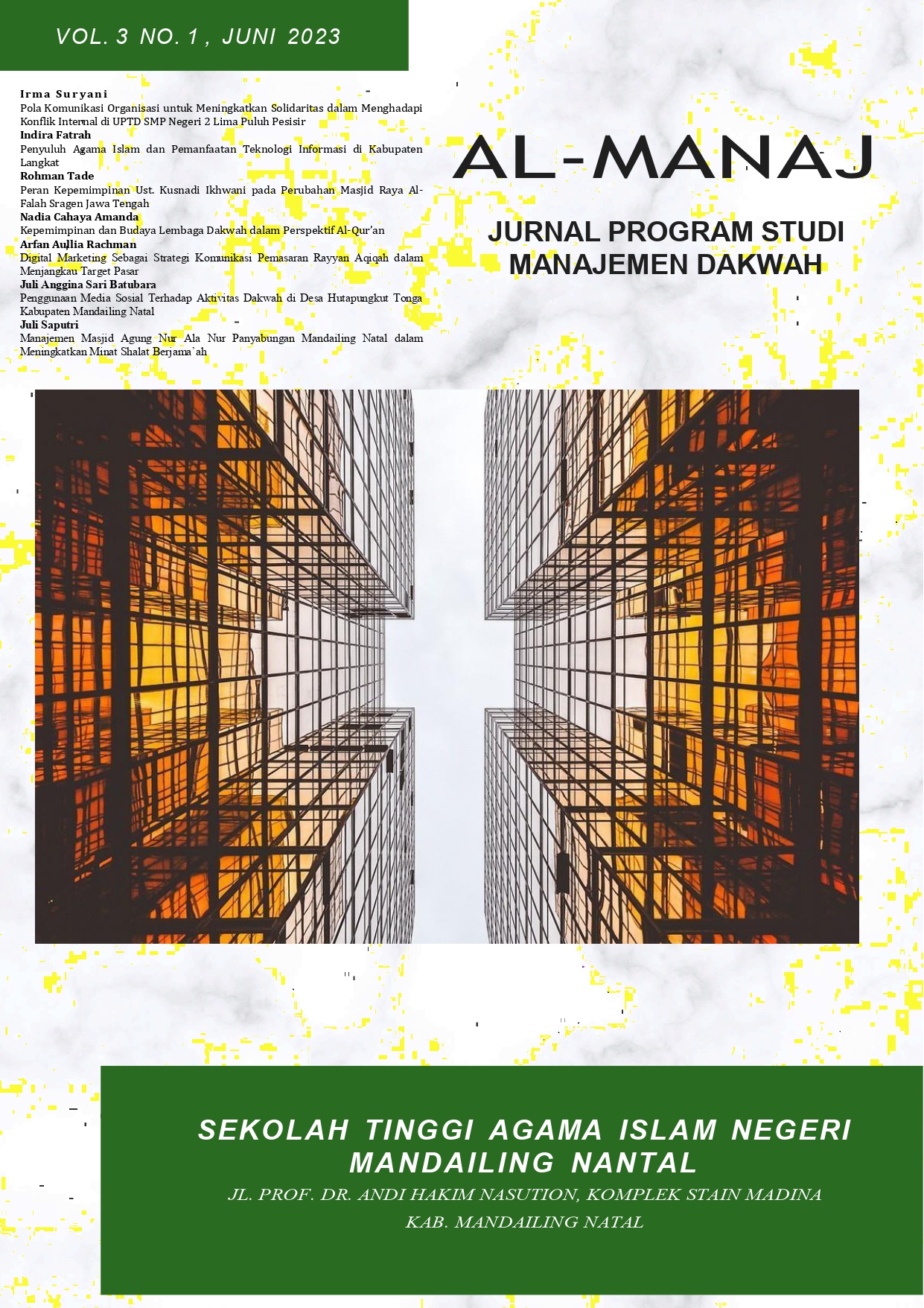 All articles published in Al Manaj: Jurnal Manajemen Dakwah are licensed under a Creative Commons Attribution-ShareAlike 4.0 International (CC BY-SA) license. This means anyone is free to copy, transform, or redistribute articles for any lawful purpose in any medium, provided they give appropriate attribution to the original author(s) and Al Manaj: Jurnal Manajemen Dakwah, link to the license, indicate if changes were made, and redistribute any derivative work under the same license.
Copyright on articles is retained by the respective author(s), without restrictions. A non-exclusive license is granted to Al Manaj: Jurnal Manajemen Dakwah to publish the article and identify itself as its original publisher, along with the commercial right to include the article in a hardcopy issue for sale to libraries and individuals.
Although the conditions of the Creative Commons Attribution-ShareAlike 4.0 International (CC BY-SA) license do not apply to authors (as the copyright holder of your article, you have no restrictions on your rights), by submitting to Al Manaj: Jurnal Manajemen Dakwah, authors recognize the rights of readers and must grant any third party the right to use their articles to the extent provided by the license.

This work is licensed under a Creative Commons Attribution-ShareAlike 4.0 International License.