PELATIHAN MEMBUAT LAPORAN KEUANGAN MASJID JAMIQ DESA PINTU PADANG KECAMATAN BATANG ONANG
erpiana siregar

Dosen Prodi Perbankan Syariah STAIN Mandailing Natal
Keywords:
mosque management, financial reports
Abstract
This PKM activity aims to socialize and train mosque administrators in regulating the financial administration of the Jamiq mosque in Pintu Padang village, especially in preparing mosque financial reports in accordance with PSAK No.45. The PKM method is carried out using the interview method to find problems in the field, the lecture method in socializing and introducing the basics of accounting, the tutorial method in preparing mosque financial reports. There were 20 participants who took part in this training. These participants were Jamiq Mosque administrators and mosque youth who were willing to take part in the training. This PKM activity will be held on Saturday, September 5 2022 from 08.00-12.30 WIB. The implementation of community service ran smoothly and received positive responses from various parties.
References
Ade, R. D. (2013 ). Analisis Penerapan PSAK No. 45 Pada Yayasan Masjid Al Falah Surabaya. Jurnal Ilmu Dan Riset Akuntansi.Vol. 2, No. 7, 5.
Ayub, E. A. (2007). Manajemen Mesjid. Jakarta: Gema Insani.
Hery. (2016). Mengenal dan Memahami Dasar-dasar Laporan Keuangan: Dilengkapi dengan Kamus Akuntansi untuk Membantu Memudahkan Cara Membaca Laporan. Jakarta: Grasindo.
Indonesia, I. A. ( 2012). PSAK No. 45 Pasal 109,. Jakarta: Ikatan Akuntansi Indonesia.
Martini, R. (2018). Pembukuan dan Pelaporan Informasi Akuntansi Keuangan Berbasis PSAK 45: Pada Panti Asuhan Al-Amanah Palembang,. Aptekmas: Jurnal Pengabdian Kepada Masyarakat,, 1(2).
Ratna Diana Marviana, D. (2021). Sosialisasi Pengenalan dan Pelatihan Penyusunan Laporan Keuangan Mesjid Berdasarkan PSAK No.45. Reswara: JUrnal Pengabdian kepada Masyarakat, Vol. 2 No. 2 , 390.
Siregar, L. (2018). Akuntnasi Keuangan Mesjid: Suatu Tinjauan. JUrnal Menara Ekonomi: Penelitian dan Kajian Ilmiah Bidang Ekonomi, 4(2).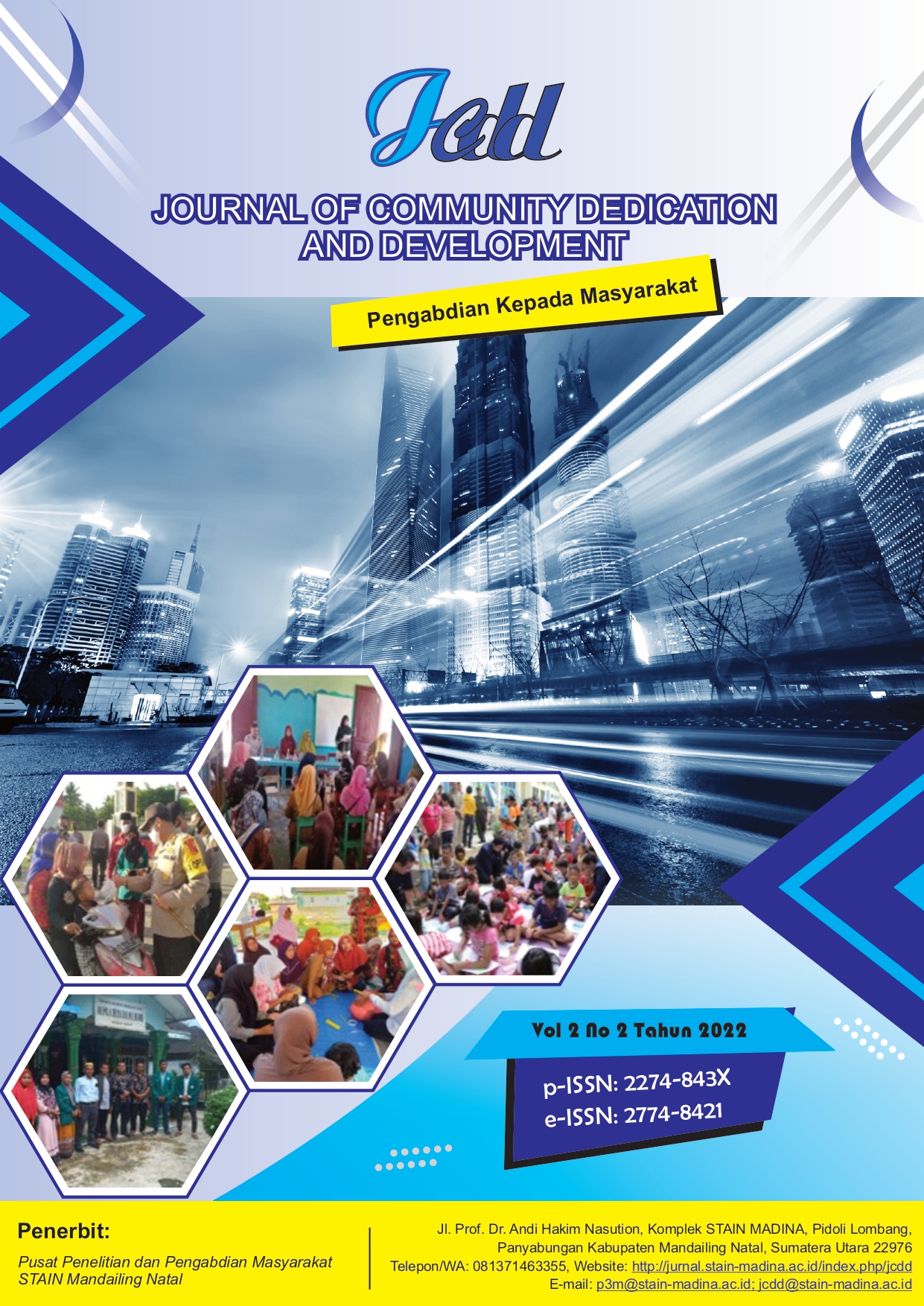 How to Cite
siregar, erpiana. (2022). PELATIHAN MEMBUAT LAPORAN KEUANGAN MASJID JAMIQ DESA PINTU PADANG KECAMATAN BATANG ONANG. Journal of Community Dedication and Development (Pengabdian Kepada Masyarakat), 2(2), 21-26. Retrieved from https://jurnal.stain-madina.ac.id/index.php/jcdd/article/view/1121
Copyright (c) 2022 Journal of Community Dedication and Development (Pengabdian Kepada Masyarakat)
This work is licensed under a Creative Commons Attribution 4.0 International License.