Pemberdayaan Masyarakat Berbasis Potensi Lokal Melalui EPOLIK Di Ngesong Sedayulawas Brondong Lamongan
nafilatur rohmah

Institut Agama Islam Tarbiyatut Tholabah Lamongan
Keywords:
Housewives: Ngesong, Education, applying local-based creative industries.
Abstract
Objective. Local potentional-based Creative industry is a method to improve society's prosperity. Society's bewilderment in processing natural products into creative industries is one of the reasons why people sale off their harvests  that results low-price raw products. Women (in this case housewives) in Ngesong village required an education or training regarding local potential-based creative industries. This society's empowerment discussed about enhancement of society's prosperousness with a program called EPOLIK (Edukasi Pemanfaatan Potensi Lokal sebagai Industri Kreatif). It is an educational Program on the use of local potentials as creative industries. The program was formulated for housewives in Ngesong village.
Materials and Methods. The empowerment in this research used PAR (Participatory Action Research) method, which was a collaboration between researchers and the Ngesong people. The collaboration included: formulating the issues/problems, Planning the actions, executing the actions  and evaluating the outcomes.
Results.
The results of the empowerment are: (1) the assisted participants can make processed Sapodilla ingredients into cakes and drinks called Maneela Cake and Maneela Syrup: (2) awareness within themselves, namely: (a) awareness that there is potential in their area that should be developed; (b) Awareness that the developed local potential can have economic value; (c) Delicacy in that selling goods directly with goods processed into semi-finished goods has more selling value; (d) growing creative industries starting from home.
Conclusion. This empowerment activity through EPOLIK provides experience for assisted subject housewife to find potential natural resources that can be processeed into value-added products to increase economic welfare. This activity also provides skills to assisted subject husewife in processing local potential in the form of Sapodilla fruit into Maneela cake and Maneela Syrup. In addition, this activity can increase the motivation of assisted subject mothers as creative industry players by utilizing local potential to improve welfare.
References
Astuti, Mulia., 2012. Pemberdayaan Perempuan Miskin Berbasis Pemanfaatan Sumberdaya Lokal Melalui Pendekatan Sosial Entrepreneurship. Jurnal Sosiokonsepsia Vol.17 No.3. e-journal kemensos.go.id.
Badan Pusat Statistik. Kecamatan Brondong dalam Angka. Tahun 2018
Faizun. Ibu Rumah Tangga Dusun Ngesong Desa Sedayulawas Kecamatan Brondong Lamongan. Wawancara. 10 April 2019.
Kamus Besar Bahasa Indonesia dalam Jaringan diakses pada 8 Agustus 2019.
Mustangin, dkk. 2017. Pemberdayaan Masyarakat Berbasis Potensi Lokal Melalui Program Desa Wisata di Desa Bumiaji. Jurnal Pemikiran dan Penelitian Sosiologi. Vol.2 No.1 Desember 2017.
Nugroho, Aji Alih. 2017. Pembangunan Ekonomi Berbasis Potensi Wilayah dan Pemberdayaan Masyarakat: Analisis Pengembangan Ekonomi Kabupaten Ngawi. Jurnal Pembangunan dan Kebijakan Publik Vol 8 No. 2.
Purnomo, Rochmar Aldy. 2016. Ekonomi Kreatif Pilar Pembangunan Indonesia. Surakarta: Ziyad Visi Media.
Saifur Rohman. Kepala Dusun Ngesong Desa Sedayulawas Kecamatan Brondong Lamongan. Wawancara. 10 April 2019.
Sarifudin, dkk. (2019). EDPERDAY (Edukasi Pertanian Swadaya): Upaya Pemberdayaan Pemuda Pertanian dalam Lahan Edukasi Sayur Organik. Jurnal Pengabdian kepada masyarakat Universitas Gadjah Mada. Vol 5 No. 2 Agustus 2019.
Saugi, Wildan. dkk. 2015. Jurnal Pendidikan dan Pemberdayaan Masyarakat. vol.2. no.3. November 2015.
Sumaryadi. Agus., 2019. Pengolahan dan Pemanfaatan Buah Merah dalam Upaya Pengentasan Kemiskinan. Jurnal Pengabdian Kepada Masyarakat Universitas Gadjah Mada. Vol 5, No.1, April 2019.
Widarta, I Wayan Rai., S.Tp., M.Si., dkk. 2016. Pelatihan Pengolahan Pie Susu dari Umbi-Umbian Lokal di Desa Adat Panglipuran Kecamatan Bangli Kabupaten Bangli. Laporan Akhir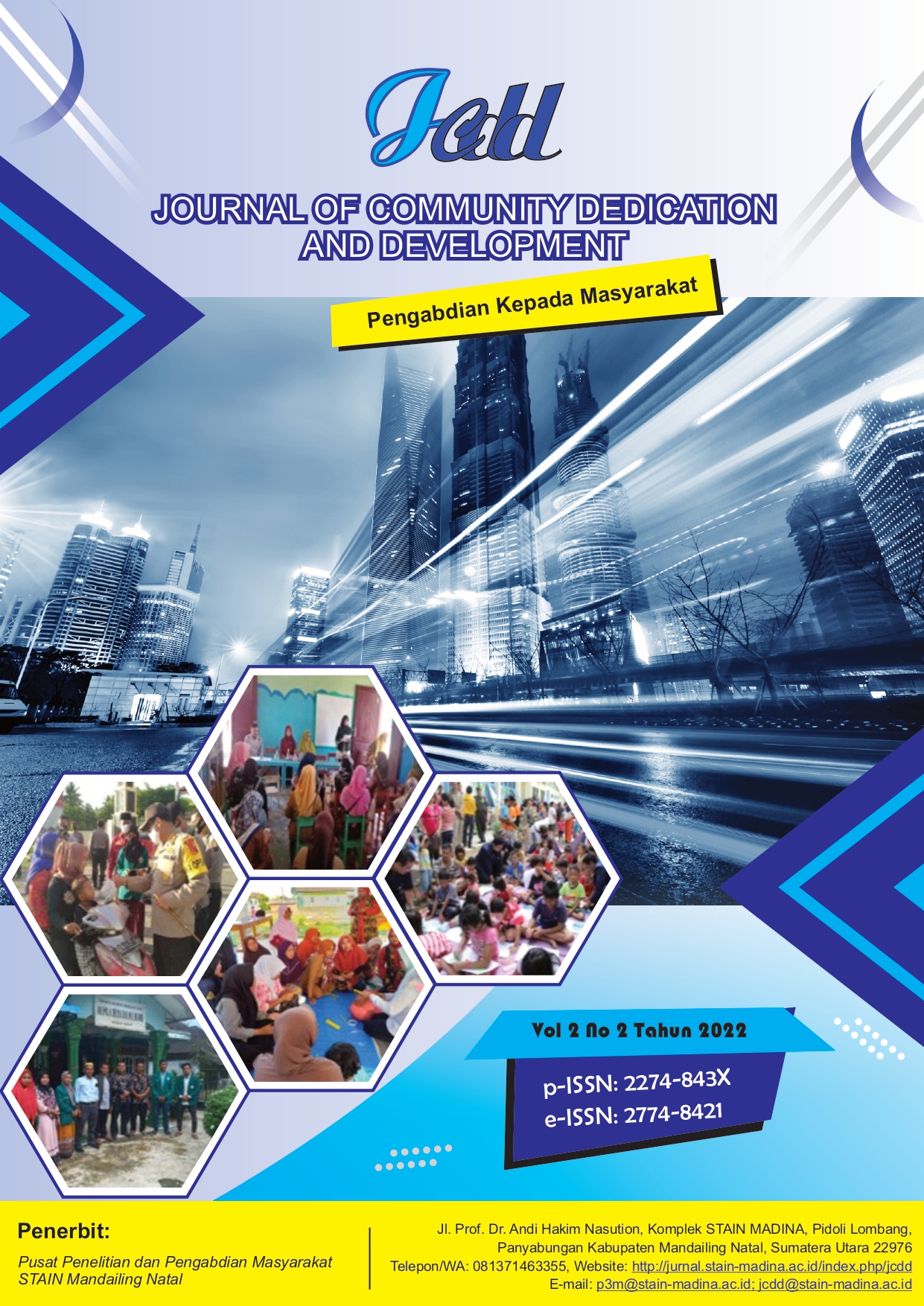 How to Cite
rohmah, nafilatur. (2022). Pemberdayaan Masyarakat Berbasis Potensi Lokal Melalui EPOLIK Di Ngesong Sedayulawas Brondong Lamongan. Journal of Community Dedication and Development (Pengabdian Kepada Masyarakat), 2(2), 43-49. Retrieved from https://jurnal.stain-madina.ac.id/index.php/jcdd/article/view/1190
Copyright (c) 2022 Journal of Community Dedication and Development (Pengabdian Kepada Masyarakat)
This work is licensed under a Creative Commons Attribution 4.0 International License.