SOSIALISASI GERAKAN MASYARAKAT HIDUP SEHAT (GERMAS) PADA MASA PANDEMIC COVID-19
Mariyati Mariyati

Universitas Iqra Buru

Muhamad Iksan

Universitas Muhammadiyah Buton

Wilda Fesanrey

Universitas Iqra Buru

Azaluddin Azaluddin

Universitas Muhammadiyah Buton

M Rusdi

Universitas Iqra Buru

Riska Sumini Galela

Universitas Iqra Buru

Susiati s

Universitas Iqra Buru

http://orcid.org/0000-0003-3354-3848
Keywords:
sosialisasi, germas, pandemic covid-19
Abstract
Tujuan pengabdian masyarakat ini adalah menyosialisasikan gerakan masyarakat hidup sehat berbasis edukasi teori dan praktik kepada masyarakat Desa Grandeng.
Metode yang digunakan berupa pendekatan sosialisasi berbasis edukasi teori dan praktik tentang gerakan masyarakat hidup sehat yang meliputi tiga tahapan, yakni tahap persiapan, tahap pelaksanaan, dan tahap evaluasi. Sasaran pelaksanaan kegiatan pengabdian ini adalah warga Desa Grandeng, Kecamatan Lolong Guba, Kabupaten Buru.
Adapun hasil pelaksanaan kegiatan pengabdian ini, yakni  tahap persiapan, yaitu tim pengabdi melakukan observasi awal terhadap kondisi sosial masyarakat serta kondisi lingkungan masyarakat Desa Grandeng; tahap pelaksanaan, yakni tim pengabdi melakukan sosialisasi berbasis edukasi secara teori dan praktik terkait cara mencuci tangan yang baik dan benar, cara memakai masker dengan baik dan benar, pembersihan lingkungan masyarakat, serta pengadaan tempat cuci tangan di lingkungan masyarakat; tahap evaluasi, menekankan adanya tindak lanjut oleh tim pengabdi dan mitra dengan tetap melakukan pengontrolan agar masyarakat memiliki kesadaran secara total terhadap pentingnya menggiatkan pola hidup bersih dan sehat melalui gerakan masyarakat hidup sehat.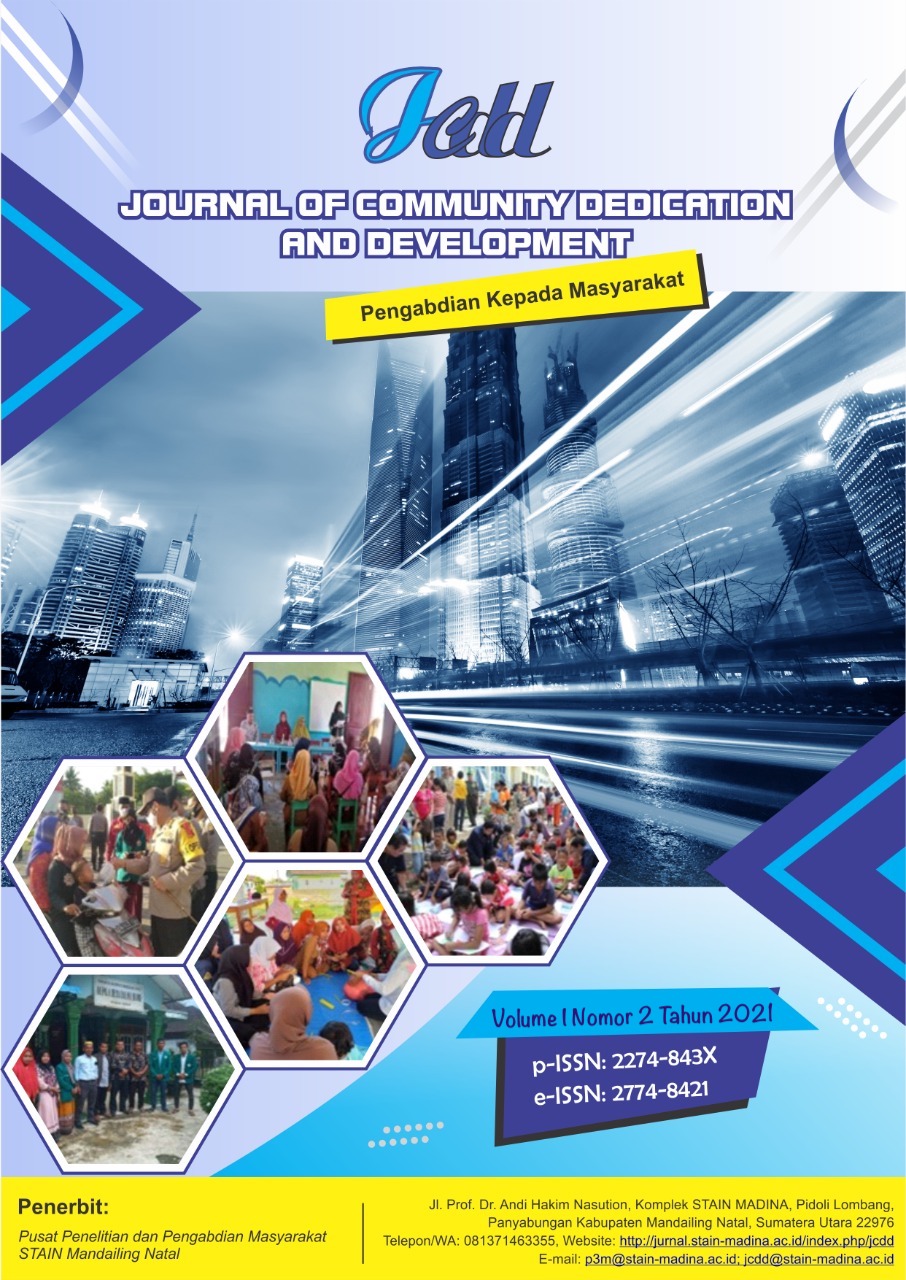 How to Cite
Mariyati, M., Iksan, M., Fesanrey, W., Azaluddin, A., Rusdi, M., Galela, R. S., & s, S. (2021). SOSIALISASI GERAKAN MASYARAKAT HIDUP SEHAT (GERMAS) PADA MASA PANDEMIC COVID-19. Journal of Community Dedication and Development (Pengabdian Kepada Masyarakat), 1(2), 131-140. Retrieved from https://jurnal.stain-madina.ac.id/index.php/jcdd/article/view/418
Copyright (c) 2021 Journal of Community Dedication and Development (Pengabdian Kepada Masyarakat)
This work is licensed under a Creative Commons Attribution 4.0 International License.