SOSIALISASI "SADAR SAMPAH" PADA MASYARAKAT DI MASA PANDEMIC COVID-19
Nanik Handayani

IAIN AMBON

Agusman Agusman

Universitas Muhammadiyah Buton

Nanik Indrayani

Universitas Iqra Buru

Nurhaya Yusuf

Universitas Iqra Buru

Sjaid S Fais Assagaf

Universitas Iqra Buru

Darwin Rukua

Universitas Iqra Buru

Susiati Susiati

Universitas Iqra Buru

http://orcid.org/0000-0003-3354-3848
Keywords:
sosialisasi, sadar sampah, covid-19
Abstract
Tujuan pengabdian masyarakat ini, yakni menyosialisasikan perilaku dan aksi "sadar sampah" sebagai wujud dalam membangun kesadaran masyarakat desa Namlea di masa pandemic covid-19.
Metode yang digunakan adalah metode Focus Group Discussion (FGD) dan Sosialisasi. FGD dilakukan secara indoor, yakni terdiri dari 25 peserta yang berasal dari para perangkat desa dan masyarakat desa Namlea. Sementara pada metode sosialisasi dilaksanakan dengan sistem door to door, dengan menggunakan media pamflet dan tanya jawab langsung kepada para warga.
Hasil pelaksanaan sosialisasi ini, yakni masyarakat sudah dapat membedakan sampah organik dan anorganik serta cara pengelolaan sampah dengan metode 3R. Selama proses tanya jawab, peserta sangat antusias dalam diskusi. Tidak sedikit yang memberikan ide terkait pengelolaan limbah sampah menjadi hiasan yang memiliki nilai ekonomis.
Membangun kesadaran masyarakat dalam menyikapi lingkungan harus selalu digiatkan dan kegiatan pengabdian ini sudah memberikan banyak manfaat dan informasi kepada masyarakat desa Namlea agar selalu menjaga kebersihan serta membuang sampah pada tempatnya.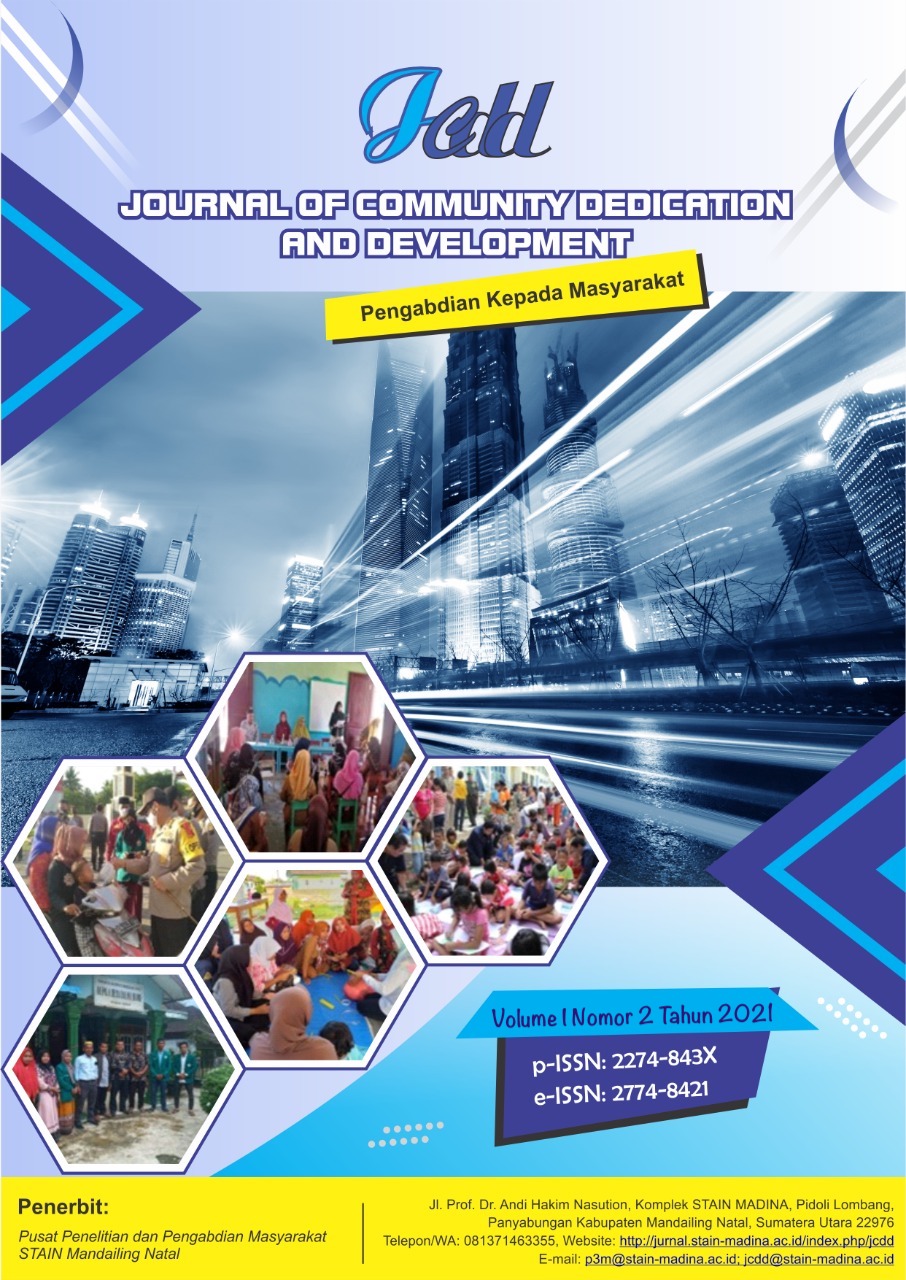 How to Cite
Handayani, N., Agusman, A., Indrayani, N., Yusuf, N., Assagaf, S. S. F., Rukua, D., & Susiati, S. (2021). SOSIALISASI "SADAR SAMPAH" PADA MASYARAKAT DI MASA PANDEMIC COVID-19. Journal of Community Dedication and Development (Pengabdian Kepada Masyarakat), 1(2), 168-176. Retrieved from https://jurnal.stain-madina.ac.id/index.php/jcdd/article/view/427
Copyright (c) 2021 Journal of Community Dedication and Development (Pengabdian Kepada Masyarakat)
This work is licensed under a Creative Commons Attribution 4.0 International License.