PERBEDAAN JENIS DAN KARAKTERISTIK PADA MEDIA PENYIARAN RADIO DAN TELEVISI
Bagus Prayugo

STAI TEBINGTINGGI DELI

Handayani Kamalia

STAI Tebing Tinggi Deli
Keywords:
Media Penyiaran, Televisi, Radio
Abstract
Abstract: The competition that is currently taking place in the Digital Era has pushed broadcasting media such as radio and television to emphasize their existence in order to stay alive. By relying on the variety and characteristics of each media, this broadcast media has its own special features. The word broadcasting or commonly called broadcasting, is the process of delivering broadcasts as a whole starting from the preparation of production material, the production process, the preparation of broadcast material and broadcasting to the recipient of the broadcast, namely listeners, viewers or audiences somewhere. But the fact is, by relying on the sophistication of all-digital technology, each media has advantages and it all depends on the needs and how to use it. This study aims to identify the different types and characteristics of radio and television broadcasting media, because each communication medium has its own strengths and weaknesses. The research approach used is qualitative with study literacy methods in scientific books and analyzes them in depth. The results of this study state that the existence of broadcasting media such as radio and television in the current digital era is indeed a challenge and a benchmark for how strong an institution maintains the existence of this media. Therefore, every institution has the right to adapt and be able to survive by presenting more diverse and quality information content.
Keywords: Media Broadcasting, radio and television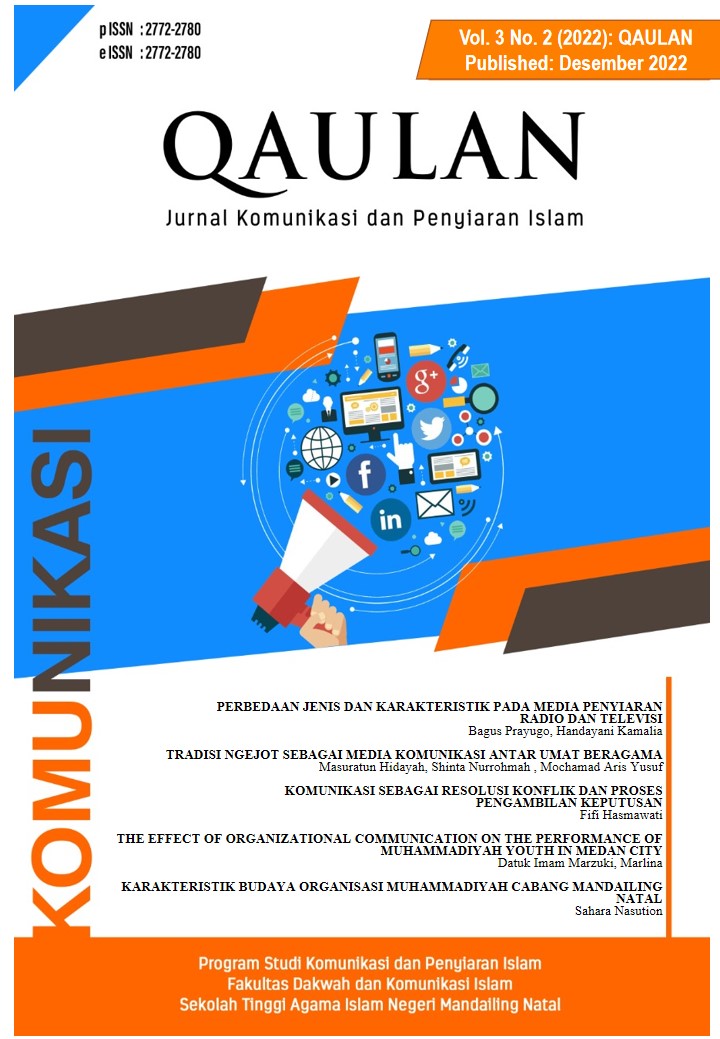 How to Cite
Prayugo, B., & Kamalia, H. (2023). PERBEDAAN JENIS DAN KARAKTERISTIK PADA MEDIA PENYIARAN RADIO DAN TELEVISI. QAULAN : Jurnal Komunikasi Dan Penyiaran Islam , 3(2), 1-19. Retrieved from https://jurnal.stain-madina.ac.id/index.php/qau/article/view/1108
Copyright (c) 2022 BAGUS PRAYUGO BAGUS
This work is licensed under a Creative Commons Attribution 4.0 International License.