BUDAYA KOMUNIKASI VIRTUAL PADA MASA PANDEMI COVID-19
(Studi Kasus Pembelajaran Daring di UIN Sunan Kalijaga, Yogyakarta)
Fevo Wahyu Anugrah

Mochamad Aris Yusuf

UIN
Keywords:
Virtual Culture, Online Learning, Covid-19 Pandemic
Abstract
This paper attempts to understand the phenomenon of virtual-based communication culture during the Covid-19 pandemic. The emergence of the Covid-19 pandemic that hit Indonesia also had implications for the world of education, one of which was the disruption of learning activities. The ongoing pandemic situation has forced a number of tertiary institutions to apply the concept of online and offline learning. One of them is UIN Sunan Kalijaga Yogyakarta. Various communication rituals, starting from online learning (in the network), online hospitality events to efforts to establish discussions between people, occur in cyberspace. This research method uses a qualitative-descriptive type of virtual ethnographic research. Data collection techniques include documentation studies, digital traces related to communication activities and narratives about the phenomenon of online activities. The findings in this research are that virtual-based communication activities help facilitate student activities in online learning, or an event to build an academic culture through zoom rooms. Technology plays an important role as a medium for bonding between students through an interactive and communicative internet connection.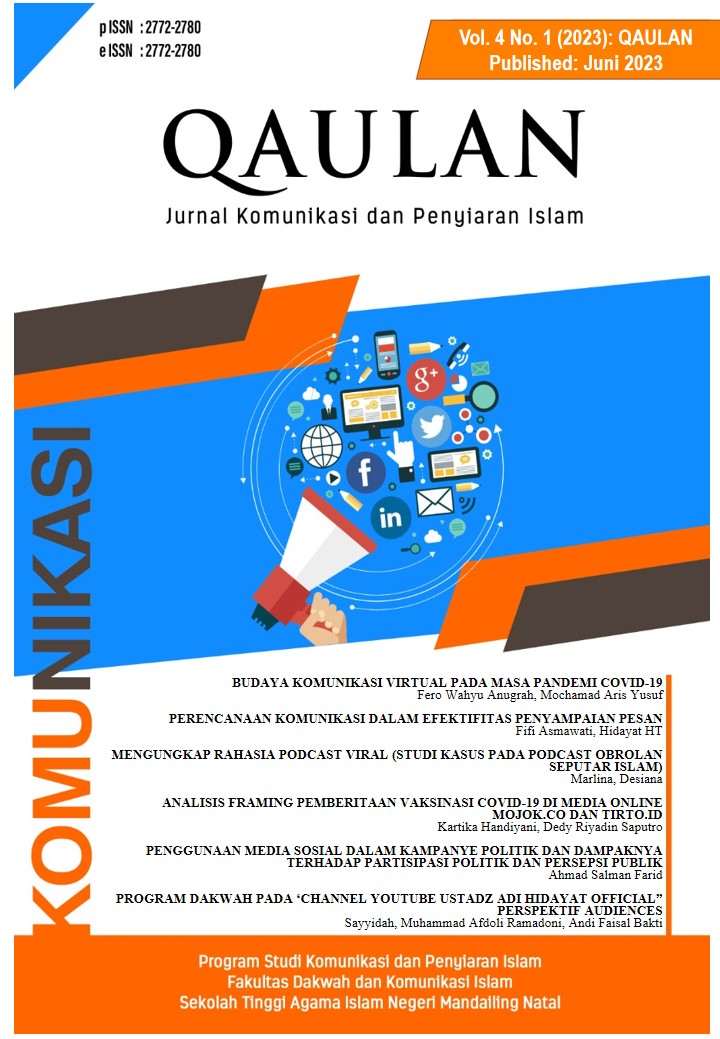 How to Cite
Anugrah, F. W., & Yusuf, M. A. (2023). BUDAYA KOMUNIKASI VIRTUAL PADA MASA PANDEMI COVID-19 : (Studi Kasus Pembelajaran Daring di UIN Sunan Kalijaga, Yogyakarta). QAULAN : Jurnal Komunikasi Dan Penyiaran Islam , 4(1), 1-9. Retrieved from https://jurnal.stain-madina.ac.id/index.php/qau/article/view/1169
Copyright (c) 2023 Mochamad Aris Yusuf
This work is licensed under a Creative Commons Attribution 4.0 International License.