KAIDAH PENYUSUNAN TES BAHASA ARAB (PILIHAN GANDA)
PREPARATION RULES OF ARABIC TEST (MULTIPLE CHOICE TEST)
Erlina

STAIN Mandailing Natal
Keywords:
Rules for constructing tests, Arabic tests, multiple choice tests
Abstract
This study aims to explain how the rules for preparing the Arabic test in the form of multiple choice tests must be understood and applied by all parties involved in the preparation of the multiple choice Arabic test. This study uses a qualitative descriptive research method that is used to investigate, find, describe and explain a phenomenon. The results of the study show that there are three aspects of the rules for preparing multiple choice Arabic tests, namely material, construction and language aspects. Material rules; the subject matter must be in accordance with the indicators and competencies, must be homogeneous and logical, each question has only one answer. Construction rules; the subject matter is formulated briefly and clearly, the questions and answers contain only the necessary statements, do not provide clues towards the correct answer, do not contain double negative statements, the length of the formulation of the answer choices must be relatively the same, the answer choices may not contain the statement "all of the above answer choices are correct" or "all the answer choices above are wrong", The answer choices in the form of numbers/time are arranged based on the order of the size of the numbers or chronologically, Pictures, graphs, tables, diagrams, and the like on questions must be clear, legible, and understandable by students, Item questions should not depend on the answers to the previous questions. Answers must be arranged in a balanced, distributed and random manner. Language Rules; Each question item must use language that is in accordance with the rules of Arabic, communicative, formal and the answer choices do not repeat words or phrases that are not a unified understanding.
References
Daftar Pustaka
Agama, Kementerian. Buku Siswa Bahasa Arab Kelas X. Edited by M.HI Dr. Ahmad Mubaligh. Direktorat Jenderal Pendidikan Islam, 2019.
Ainin, M O H. "KESAHIHAN DALAM PENYUSUNAN TES BAHASA ARAB," 291–303, 1977.
AL-MUSYRIFAH, MTs SATU ATAP. "SOAL PAS KLS 7 BAHASA ARAB 22," 2022.
JUMAEDA, ST. "A l - i l t i z a m , Vol.1, No.1, Juni 2016" 1, no. 1 (2016): 55–71.
Laili, Muhibbatul. "Ketepatan Kontruksi Butir Pilihan Ganda Bahasa Arab" 3, no. 2 (2020): 111–24.
Nugroho, Muhammad Aji. "Buku Ajar Bahasa Arab Madrasah Tsanawiyah." Arabia 8, no.2(2016):215–38. https://journal.iainkudus.ac.id/index.php/Arabia/article/view/2001/pdf.
Rahmawati, Ima, Yusuf Suryana, and Syarip Hidayat. "EDUKATIF : JURNAL ILMU PENDIDIKAN Analisis Kesesuaian Soal Penilaian Tengah Semester IPA Dengan Kaidah Penyusunan Soal Pada Aspek Bahasa Di Sekolah Dasar" 3, no. 6 (2021): 3636–46.
Ramadhan, Rachmad, and Fasich Nur Firdaus. "Analisis Butir Soal Ujian Tengah Semester Bahasa Arab Kelas XII Di SMA Al-Izzah IIBS Malang." Tsaqofiya : Jurnal Pendidikan Bahasa Dan Sastra Arab 4, no. 1 (2022): 126–35. https://doi.org/10.21154/tsaqofiya.v4i1.49.
Rezi, Melisa, and Annisa Aulia. "Tahapan Penyusunan Dan Analisis Tes Bahasa Arab" 5 (2020): 52–68.
Trismanansyah, Sutaryat. Evaluasi Pembelajaran. Vol. 4, 2557.
Zed, Mestika. Metode Penelitian Kepustakaan. Yayasan Pustaka Obor Indonesia, 2017.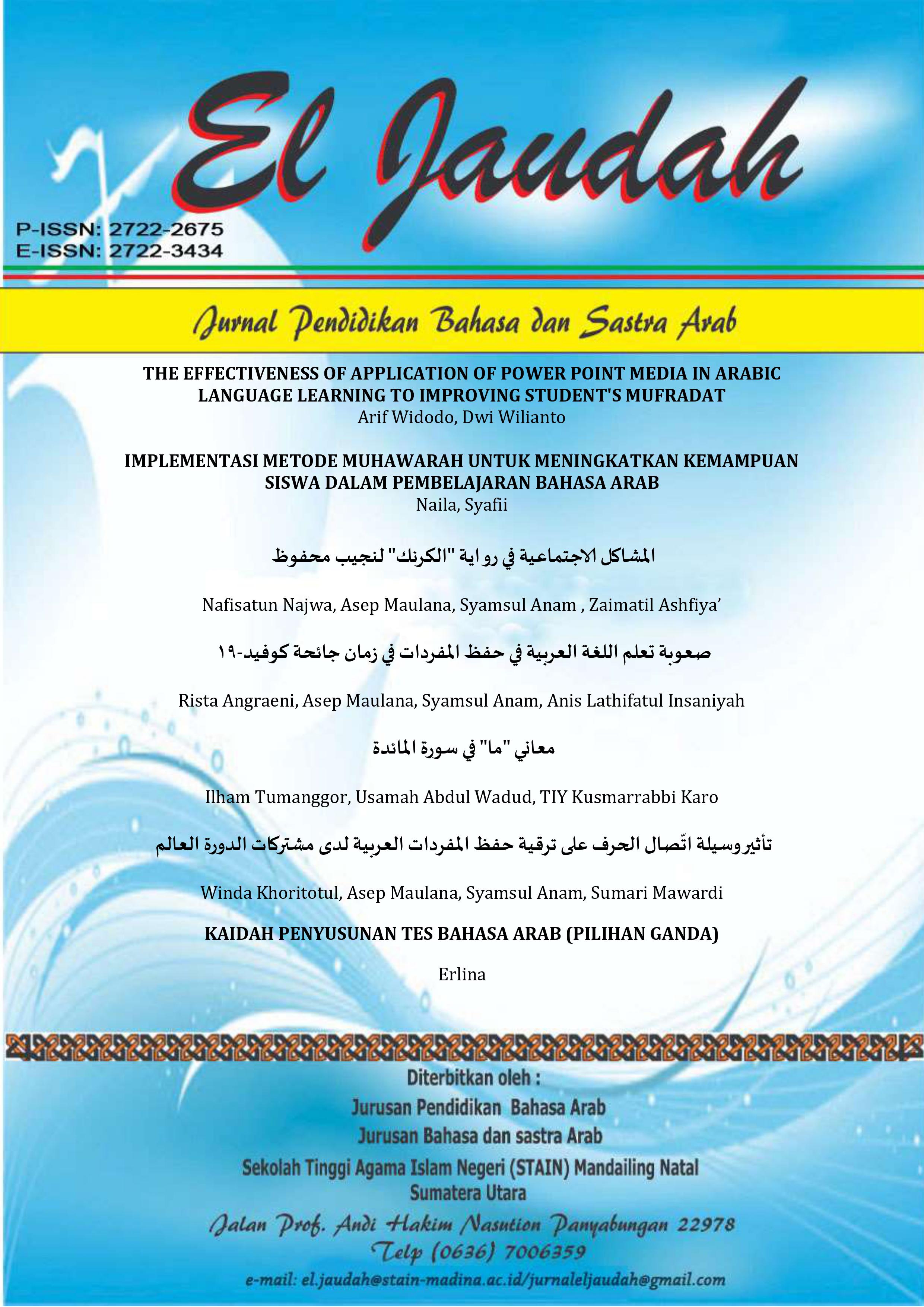 How to Cite
Erlina. (2022). KAIDAH PENYUSUNAN TES BAHASA ARAB (PILIHAN GANDA): PREPARATION RULES OF ARABIC TEST (MULTIPLE CHOICE TEST). El-Jaudah : Jurnal Pendidikan Bahasa Dan Sastra Arab, 3(2), 82-98. https://doi.org/10.56874/ej.v3i2.1075