ANALYSIS OF STUDENT'S ERRORS ON READING ARABIC TEST IN THE FIRST CLASS OF SENIOR HIGH SCHOOL AT AL-KAUTSAR ISLAMIC BOARDING SCHOOL PANEI TONGAH VILLAGE, PANEI SUBDISTRICT, SIMALUNGUN REGENCY, NORTH SUMATRA
تحليل أخطاء الطلاب في قراءة النصوص العربية بالمرحلة الأولى الثانوية بمعهد الكوثر باني تونجاه سيمالونجون سومطرة الشماليّة
Ahmad Mahrudi

STAI as-sunah
Keywords:
تحليل اللأخطاء، القراءة
Abstract
Abstract: The factors that cause reading errors for grade 1 aliyah students at modern Islamic boarding school Al Kautsar Panei Tongah Simalungun, North Sumatra are the lack of enthusiasm and attention of students in reading Arabic texts, the lack of activities that help students develop their ability to read Arabic texts, and the lack of the use of appropriate learning tools to develop students' reading skills in learning. The importance of this research is for students to know the location of errors in their reading so that further improvements can be made. This study aims to find out what are the errors in nahwu and sorof in reading Arabic texts by aliyah grade 1 students at the modern al-kautsar Islamic boarding school, as well as what are the causes of reading errors in nahwu and sorof. This research is a qualitative research conducted at the Al Kautsar Panei Tongah Modern Islamic Boarding School, Simalungun, North Sumatra and collecting data using observation, interview, documentation and test methods. The results of this study indicate that there are still many aliyah grade 1 students at the Al Kautsar Modern Islamic Boarding School experiencing errors in reading paa nahwu and sorof. Errors in the field of nahwu include: isim inna, al-fi'lu al- mudhari', maf'ul bih, al-idhofah, ismun majrur, al-mubtada' wal khobar, al-athfu, ismun kana and al-fa'il. The errors in the field of shorof include: al-fi'lu mazid, al-fi'lu al-mujarrad, al-mashdar, al-maf'ul bih and al-fa'il.
References
أبي حسن أحمد ابن فارس بن زكيا، معجم المقاييس اللغة، بيروت: دار أحياء التراث العربي، 1389 ه
أحمد الحملاوي، شذا العرف في فنّ الصرف، الرياض: مكتبة المعارف، 2001 م
رجاء وحيد دويدري، البحث العملي أساسيته النظرية وممارسته العملية، بيروت: دار الفكر المعاصر، 2000 م
رشد أحمد طعينة، مناهج تدريس اللغة العربية بالتعليم الأساسي، القاهرة: دار الفكر العربي, 1419 ه
رشدي أحمد طعيمة، المهارات اللغوية ميتوياتها، تدريسهم، صعوباتها، القاهرة: دار الفكر العربي، 2004 م
عبد الغني محمد إسماعيل العمراني، اساسية البحث التربوي، صنعاء: دار الكتاب الجامعي، 2013 م
عبد الفتاح صبرى وعلي عمر، القراءة الرشيدة الجزء الثالث، فونوروكو: دار السلام كونتور
عبد الفتاح فرح ضو، المهارات اللغوية، الرياض: مكتبة الرشد, 2011 م
محمد إبراهيم الخطيب، طرائق تعليم اللغة العربية، الرياض: مكتبة التوبة، 1424 ه
محمد بن إسماعيل البخاري، صحيح البخاري، بيروت: دار الأرقام بن أبي الأرقام، د. س
محمد بن يوسف بن أحمد، شرح التسهيل المسمّى "تمهيد القواعد بشرح تسهيل الفوائد"، القاهرة: دار السلام 1428 ه
مصطفى الغلايني، جامع الدروس العربية،بيروت: المكتبة العصرية، 1995 م
نايف محمد معروف، خصائص العربة وطرائق تدريسها،بغداد: مطبعة سليمان الأعظمي للنشر، 1962
هارون عبد الرزاق، عنوان الظرف في علم الصرف، بدون المدينة: مكتبة ومطبع مصطفلى الباني.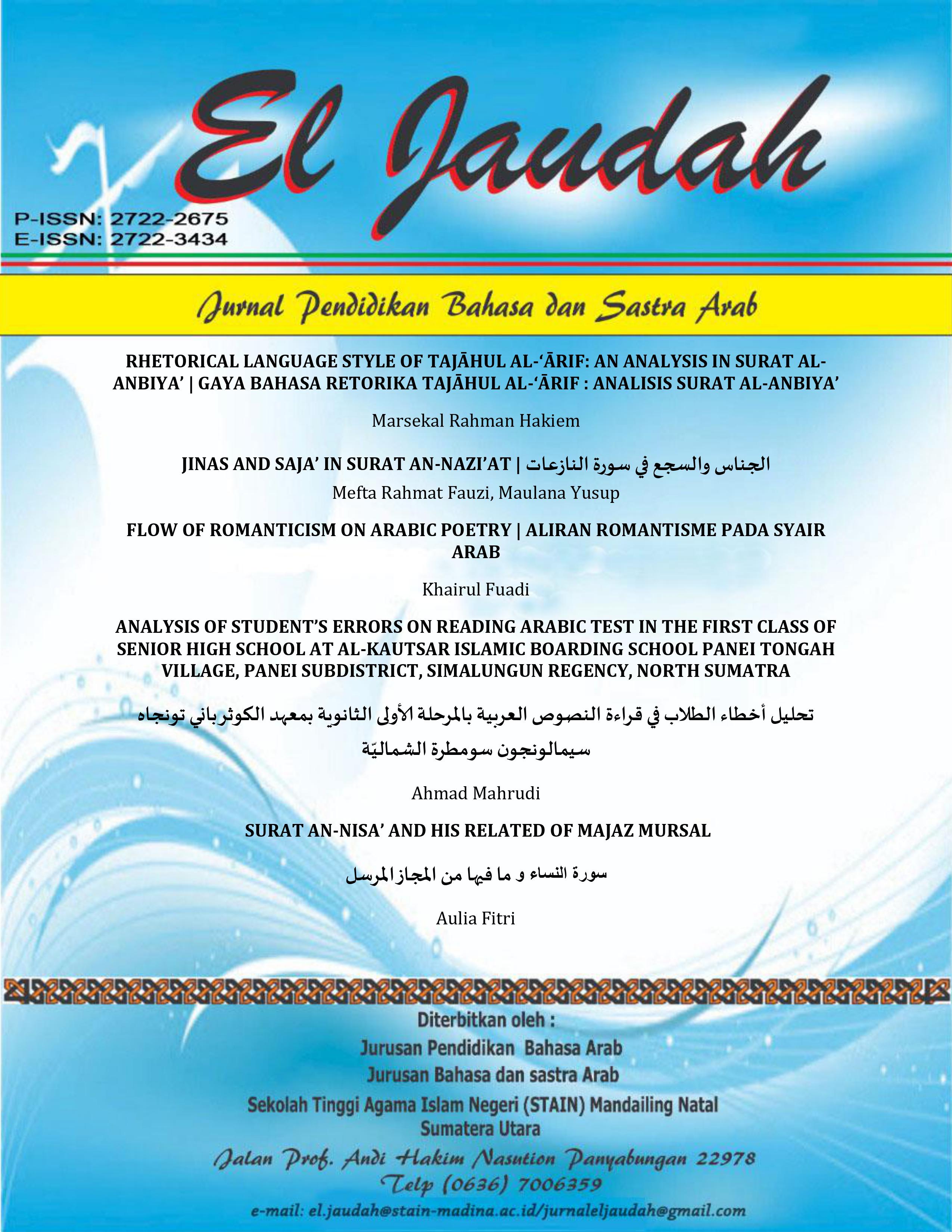 How to Cite
Mahrudi, A. (2023). ANALYSIS OF STUDENT'S ERRORS ON READING ARABIC TEST IN THE FIRST CLASS OF SENIOR HIGH SCHOOL AT AL-KAUTSAR ISLAMIC BOARDING SCHOOL PANEI TONGAH VILLAGE, PANEI SUBDISTRICT, SIMALUNGUN REGENCY, NORTH SUMATRA: تحليل أخطاء الطلاب في قراءة النصوص العربية بالمرحلة الأولى الثانوية بمعهد الكوثر باني تونجاه سيمالونجون سومطرة الشماليّة. El-Jaudah : Jurnal Pendidikan Bahasa Dan Sastra Arab, 4(1), 46-72. https://doi.org/10.56874/ej.v4i1.1213