PENGGUNAAN GAYA BAHASA REFETISI DALAM SURAH AL-JIN (SEBUAH TINJAUAN STILISTIKA)
THE USE OF REFETITIONAL LANGUAGE STYLE IN SURAH AL-JIN (A STILISTIC REVIEW)
Sammad Hasibuan

UIN Sunan Kalijaga Yogyakarta
Keywords:
Repetition or Tikrȃr Language Style, Al-Qur'an, Surah Al-Jin, Stylistics
Abstract
Abstract: This study aims to describe the types of repetition language styles contained in Surah Al-Jin, verse 1 to verse 28. The method used in this research is descriptive-qualitative method. Because the expected results are not in the form of numbers, but in the form of a descriptive presentation. The approach used is a stylistic approach, especially the style of repetition or repetition of Gorys Keraf's perspective. The results showed that there are five types of repetition language styles contained in Surah Al-Jin, namely anaphora, epistropha, mesodiplosis, epizeuksis and tautotes. Among the five types, the most widely used are anaphora, epistropha and tautotes repetition types. For the use of the type of mesodiplosis, only found a few times. This study is expected to be able to add to the treasures of stylistic scholarship, especially examining the suras in the Qur'an from the aspect of using the style of repetition or tikrr from the perspective of Gorys Keraf.
References
Abdo, Ibrahem Bani, and Safa Abu Mousa. "A Thematic Study of Repetition in Taha Hussein's The Call of the Curlew." International Journal of Linguistics, Literature and Translation (IJLLT) 2, no. 1 (2019): 23–30. https://doi.org/10.32996/ijllt.2019.2.1.3.
Abdurrahman, Muhammad Mahir Muhammad. "Marja'iyyat Al-Ḍamȋr Fȋ Sȗrat Al-Jin (Dirȃsat Lughawiyyah)." Majallat Kulliyat Al-Adab Jami'ah Port Said 8, no. 8 (2016).
Al-Fatly, Sukaynah Aziz Abbad. "Al-Dalalah Al-Qasdiyyah Min Dzahirat Al-Tikrar Fi Al-Qissah Al-Qur'aniyyah." Journal Dawat 4, no. 16 (2018).
Azizah, Nurul, Putri Palupi, Ilfia Rahmi Rasyid, and Nur Hizbullah. "Repetisi Leksikal Pada Al-Quran Surat Al-Kafirun." In Prosiding Seminar Nasional Linguistiks Dan Sastra (SEMANTIK), 656–62. Solo: Universitas Sebelas Maret, 2019.
Cahyani, Dian Anik, Sumarlam Sumarlam, Djatmika Djatmika, and Dwi Purnanto. "Repetition As Lexical Aspect of Autism Therapist in Speech Therapy Process." In Proceedings of the Fifth Prasasti International Seminar on Linguistics (PRASASTI 2019), 338:101–5, 2019. https://doi.org/10.2991/prasasti-19.2019.15.
Faizi, Nur, Syamsul Hadi, and Thoyyib Thoyyib. "Bentuk Repetisi Linguistik Dalam Al-Quran." LiNGUA: Jurnal Ilmu Bahasa Dan Sastra 9, no. 1 (2014). https://doi.org/10.18860/ling.v9i1.2555.
Farsian, Mohammad Reza, and Nasrin Esmaeili. "Analyzing the Repetition of the Phrase 'بسم الله الرحمن الرحيم' in the Holy Quran and Assessing Its French Translations." Journal Of Language & Translation Studies 51, no. 1 (2018): 269–75.
Huda, Nur. "Uslub Al-Tikrar Fi Surah Al-Mu'awwizatain." Indonesian Journal Of Islamic Literature and Muslim Society 5, no. 1 (2020): 188–96. https://doi.org/10.22515/islimus.v5i1.2393.
Huda, Nur, and Ihsan Sa'dudin. "Stylistica of Maulid Simtud Durar's Repetition Created by Habib Ali Bin Muhammad Husein Al-Habsyi." Jurnal Jurusan Pendidikan Bahasa Arab 11, no. 2 (2019): 232–53. https://doi.org/10.24042/albayan.v%vi%i.4815.
Ihsan, Mas Darul. "Repetition Values on Martin Luther King Jr. Speech." JEES (Journal of English Educators Society) 3, no. 2 (2018): 178–88. https://doi.org/10.21070/jees.v3i2.1236.
Keraf, Gorys. Diksi Dan Gaya Bahasa. Jakarta: PT Gramedia Pustaka Utama, 2004.
Luthfi, Luthfi, Rahmad Nuthihar, Herman RN, and Wahdaniah Wahdaniah. "Gaya Bahasa Repetisi Ustaz Adi Hidayat Tentang Penyelenggaran Ibadah Dalam Wabah Covid-19." Bahastra 40, no. 1 (2020): 39. https://doi.org/10.26555/bahastra.v40i1.15306.
Ma'arif, Samsul. "Surat Al-Baqarah: Repetisi Sebagai Piranti Kohesi Dalam Al-Qur'an." AL-ITQĀN 2, no. 1 (2016): 5–24.
Mahliatussikah, Hanik, and Himatul Istiqomah. "Repetition Of Clause And Sentence In Madani Surahs." In International Seminar on Language, Education, and Culture, 20–25. Malang: Universitas Negeri Malang, 2020.
Makinuddin, Moh. "Mengenal Uslud Dalam Struktur Kalimat Dan Makna." MIYAH: Jurnal Studi Islam 14, no. 2 (2018): 160–81.
Maqdis, M. "Keteladanan Jin Dalam Al-Quran (Studi Komparasi Penafsiran Surat Al-Jin Antara Al-Tafsir Al-Munir Dan Fahm Al-Quran." Universitas Islam Negeri Sunan Ampel Surabaya, 2019. http://digilib.uinsby.ac.id/38218/.
Muhammad, Muhammad. Paradigma Kualitatif Penelitian Bahasa. Yogyakarta: Liebe Book Press, 2011.
Munirah, Munirah. "Repetisi Dalam Al-Qur'an Perspektif Al-Karmani." MAGHZA: Jurnal Ilmu Al-Qur'an Dan Tafsir 2, no. 2 (2018): 43–56. https://doi.org/10.24090/maghza.v2i2.1568.
Mursalim. "Gaya Bahasa Pengulangan Kisah Nabi Musa a.s. Dalam Al-Qur'an: Suatu Kajian Stilistika." Lentera 1, no. 1 (2017): 83–106.
Murtafi, Anshoffy, M R Nababan, and Djatmika. "The Translation Analysis of Repetition Language Style in Novel a Thousand Splendid Suns, the Technique and Quality (Translation Study Using Stylistics Approach)." Prasasti 2, no. 1 (2017): 1–20.
Nurrohmah, Yuni. "Tradisi Pembacaan Surat Al-Jin Di Pondok Pesantren Miftahul Huda Al-Azhar Citangkolo." Institut Agama Islam Negeri Purwokerto, 2021.
Nurshabrina, Q. "Dakwah Nabi Nuh 'Alaihissalam: Studi Tafsir Tematik Dakwah Nabi Nuh Dalam Surat Nuh." Ulumul Qur'an: Jurnal Kajian Ilmu Al-Qur'an Dan Tafsir 1, no. 1 (2021): 19–26. http://ojs.stiudq.ac.id/JUQDQ/article/view/9.
Pamungkas, Sidiq Aji, and Kundharu Saddono. "Repetisi Dan Fungsinya Dalam Novel Di Tanah Lada Karya Ziggy Zezsyazeoviennazabrizkie: Analisis Stilistika." Metasastra: Jurnal Penelitian Sastra 11, no. 1 (2018).
Putra, Teguh Yuliandri. "Bentuk Bunyi Vokal Panjang Pada Kata Terakhir QS Al-Jin (72) Dan Penafsirannya Sebagai Wujud Keindahan Bahasa Al-Qur'an." Kembara: Jurnal Keilmuan Bahasa, Sastra Dan Pengajarannya 4, no. 1 (2018).
Qalyubi, Syihabuddin. Stilistika Bahasa Dan Sastra Arab. Yogyakarta: Idea Press Yogyakarta, 2017.
Rahman, Habibur. "Amin Al-Khuli, Pendekatan Kritik Sastra Terhadap Al-Qur'an." Al-Irfan 1, no. 1 (2019): 94–120.
Raihan. Metodologi Penelitian. Jakarta: Universitas Islam Jakarta, 2017.
Rohmatika, Alvyna. "Repetisi Dalam Antologi Puisi Buku Latihan Tidur Karya Joko Pinurbo: Kajian Stilistika." Jurnal Bapala 5, no. 2 (2018): 1–15.
Syed Mahmudul Hasan, and Md. Fakar Uddin. "Orientalist Studies on Methodology of Repetition in the Holy Quran: A Critical Study." Maʿālim Al-Qurʾān Wa Al-Sunnah 16, no. 2 (2020): 1–15. https://doi.org/10.33102/jmqs.v16i2.239.
Zubairin, Achmad. "Upaya Pembuktian Otentisitas Al-Qur'an Melalui Pendekatan Sastra (Tafsir Adabiy)." Jurnal Asy-Syukriyyah 21, no. 1 (2020): 34–48. https://doi.org/10.36769/asy.v21i1.97.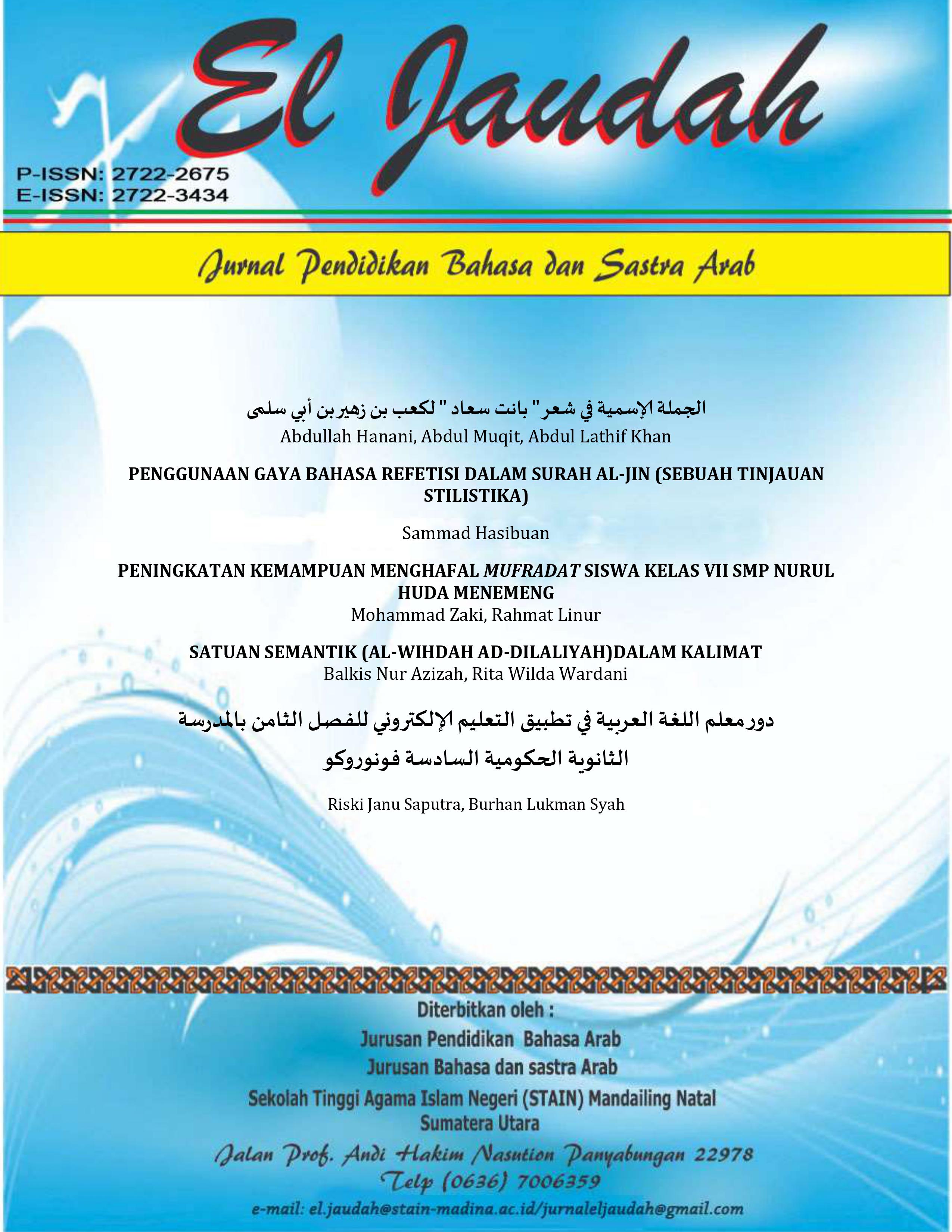 How to Cite
Hasibuan, S. (2022). PENGGUNAAN GAYA BAHASA REFETISI DALAM SURAH AL-JIN (SEBUAH TINJAUAN STILISTIKA): THE USE OF REFETITIONAL LANGUAGE STYLE IN SURAH AL-JIN (A STILISTIC REVIEW). El-Jaudah : Jurnal Pendidikan Bahasa Dan Sastra Arab, 3(1), 15-31. https://doi.org/10.56874/faf.v3i1.712