IMPLEMENTASI METODE MUHAWARAH UNTUK MENINGKATKAN KEMAMPUAN SISWA DALAM PEMBELAJARAN BAHASA ARAB
IMPLEMENTATION OF MUHAWARAH METHOD TO IMPROVE STUDENT SKILL IN ARABIC LEARNING
Naila

UIN Sunan Ampel Surabaya

Syafii

UIN Sunan Ampel Surabaya, Jawa Timur, Indonesia
Keywords:
Muhawarah Method, Arabic Learning
Abstract
This research is a study that discusses 1) How the application of the muhawarah method can be effective in learning Arabic, 2) The advantages and disadvantages of the muhawarah method. The muhawarah method is a conversational exercise using Arabic which is carried out by students every day. This method is usually required to be applied in every language cottage to speak Arabic. This method is not only based on the maharah kalam. However, it has an impact on the aspects of maharah qira'ah, maharah istima', and maharah kitabah. So this method not only facilitates the speaking, but has an impact on other aspects. The purpose of this research is to find out whether using this muhawarah method has a very good impact on students. In this research, the muhawarah method uses a descriptive research method where, this study describes the description of the events that occurred.
References
Ishak Mustika Dina, dkk, 2020 "Pengaruh Pembelajaran Bahasa Arab Maharah Qira'ah Untuk Siswa Madrasah Aliyah Terhadap Pemahaman Budaya Arab", Semnasbama, Vol 4.
Iswanto, Rahmat. 2017 "Pembelajaran Bahasa Arab Dengan Pemanfaatan Teknologi", Arabiyatuna: Jurnal Bahasa Arab, Vol.1, No. 141
Khasna Qonita Hasna. 2016 "Strategi Pembelajaran Bahasa Arab", Prosiding Konferensi asional Bahasa Arab II, No 2 . 53
Pane, Akhiril. 2018 "Urgensi Bahasa Arab; Bahasa Arab Sebagai Alat Komunikasi Agama Islam", Jurnal pengembangan Ilmu Komunikasi dan Sosial, Vol. 2, No. 1. 79
Rianingsih, Ayu, Thesis: 2019 "Efektifitas Penerapan Metode Muhawarah (Dialog) Terhadap Kemampuan Berbicara Bahasa Arab Siswa Kelas V SD IT Sungai Lilin Jl. Mekar Jaya Kec. Keluang Sungai Lilin" (Palembang, UPT Perpustakaan Pusat. 29-31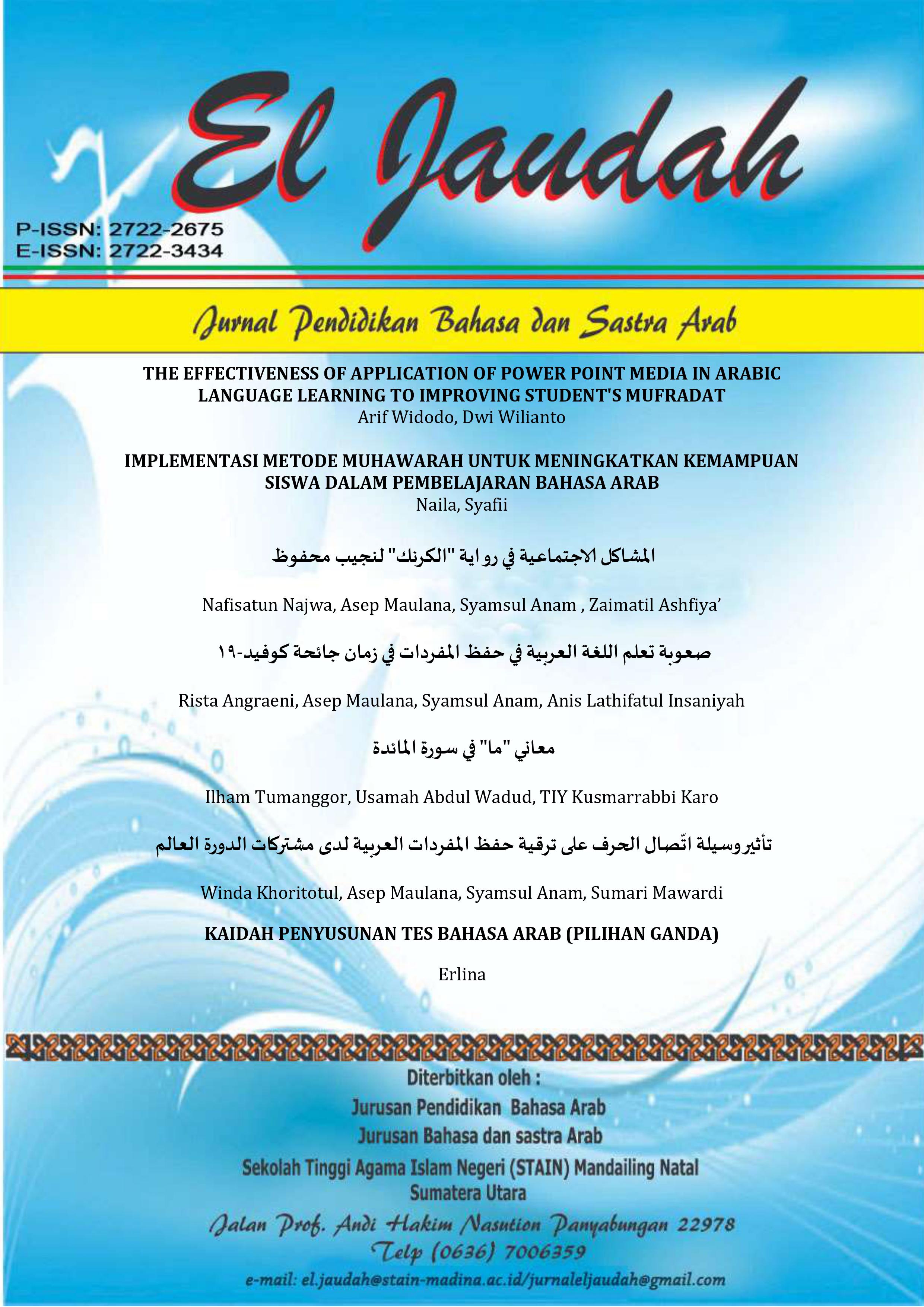 How to Cite
Naila, & Syafii. (2022). IMPLEMENTASI METODE MUHAWARAH UNTUK MENINGKATKAN KEMAMPUAN SISWA DALAM PEMBELAJARAN BAHASA ARAB: IMPLEMENTATION OF MUHAWARAH METHOD TO IMPROVE STUDENT SKILL IN ARABIC LEARNING. El-Jaudah : Jurnal Pendidikan Bahasa Dan Sastra Arab, 3(2), 17-24. https://doi.org/10.56874/ej.v3i2.835