Sri Ulfa Rahayu HADIS: TAFSIR SOSIAL TERHADAP TEKS NORMATIF DI ASIA TENGGARA
Sri Ulfa Rahayu

UIN Sumatera Utara
Keywords:
Hadis, Halal Bi Halal, Meugang, Tafsir Sosial, Hadith, Halal Bi Halal, Meugang, Social Interpretation
Abstract
The Qur'an and Hadith as the first and second sources of Islamic teachings, are very important to understand and practice. One of the teachings that have rules in the Qur'an  and Hadith is about social behavior in Southeast Asia regarding halal bi halal and the tradition of meugang before Ramadan, whether in accordance with Islamic teachings or not. The purpose of this research is to find out the arguments  about halal bi halal and meugang before Ramadan based on the Qur'an and Hadith. The method of this writing is qualitative with data collection through the existing literature, namely literature review. Furthermore, with a revelation and descriptive approach. The results obtained are halal bi halal in Islam known as shilaturrahim and has source. As for meugang, this is a tradition of sharing food, which in the Hadith there is a statement about sharing food and giving gifts.
References
Ahmad ibn Hanbal. Musnad Ahmad. Beirut: Dar al-Fikr, 1991, Juz 41
Al-Bukhari. Sahih Al-Bukhari . Beirut: Daral-Kitab al-Ilmiyyah, 1992, Juz 7.
Departemen Pendidikan Nasional. KBBI. Jakarta: Gramedia, 2008, Edisi keempat.
Al-Jazairi, Abu Bakar Jabir . Aisar at-Tafasir. Saudi Arabia: Maktabah Asy-Syamilah, Bab 19, Juz 2.
At-Tirmidzi, Sunan At-Tirmidzi. Beirut: Darul Fikri, 1988.
https://www.merdeka.com/jateng/makna-halal-bihalal-pada-tradisi-lebaran-ketahui-sejarahnya-kln.html
Ibnu Katsir. Tafsir Alquran al-'Azim. Damaskus: Dar Thaibah li an-Nasyr wa at-Tauzi', 1999, Juz 4.
Mushtafa , Asy-Syiba'i . As-Sunnah wa Makanatuha fi at-Tasyri'I al-Islami. Beirut: Maktabah al-Islami, 1985.
Muslim. Sahih Muslim. Beirut: Dar al-Fikr, 1993.
Rahayu, Sri Ulfa. " Hadis Tentang Lapang Rezeki Dan Panjang Umur Dengan Shilaturrahim", Al-I'jaz: Jurnal Kewahyuan Islam , Vol. 7 No. I (2021), 90.
Siregar, Ilham Ramadan, Kontribusi Ulama Patani Terhadap Perkembangan Hadis ,al-Mu'tabar: Journal Ilmu Hadis, Vol. 1 No. 1, Januari-Juni 2021.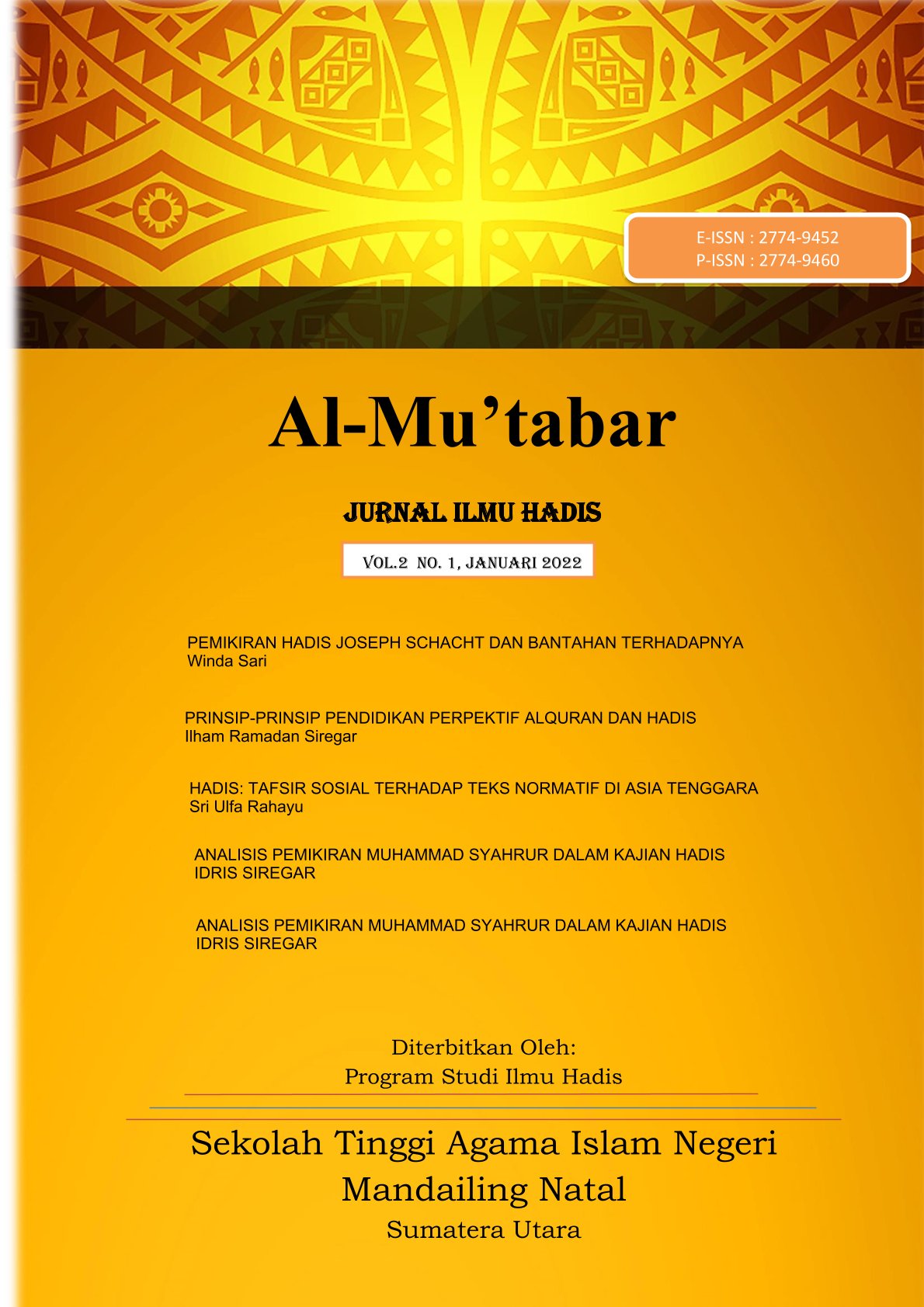 How to Cite
Rahayu, S. U. (2022). Sri Ulfa Rahayu HADIS: TAFSIR SOSIAL TERHADAP TEKS NORMATIF DI ASIA TENGGARA. Al-Mu'tabar, 2(1), 31-44. https://doi.org/10.56874/almutabar.v2i1.665