HADIS TENTANG ARAH KIBLAT DAN RELEVANSINYA DENGAN HISAB ILMU FALAK
Keywords:
Hadith, Qibla Direction, Astrology, Hadis, Arah Kiblat, Ilmu Falak
Abstract
ABSTRACT                                                                
The discussion about the accuracy of the Qibla direction still continues to be an actual discussion among Muslims, but the discussion is sometimes not argumentative based on the Qur'an and the Prophet's Hadith. This paper discusses the status of the prophet's hadith related to the Qibla direction and the relevance of the Qibla direction hadith to astronomy. The type of research is thematic, and the approach used is sanad and matan criticism to see the degree of sanad and matan of a hadith so that it can or cannot be used as hujjah (evidence) in legal decision making (istinbath). The hadiths about the Qibla direction that were found were then selected, and there were two hadiths that were considered to meet the criteria and were representative of a number of hadiths that were found. In this paper, it is found that the hadith that discusses the direction of the Qibla is authentic from the sanad and matan so that it can be used as a legal basis, while the relevance of the hadith of the Qibla direction to astronomy can be seen that the application of the hadith to determine the direction of Qibla can be done in 2 ways in astronomy, namely by the method of astronomy. the shadow of the qibla and the azimuth of the north point.
ABSTRAK
Pembicaraan mengenai ketepatan arah kiblat masih terus menjadi diskusi yang aktual di kalangan umat Islam, namun pembahasannya terkadang tidak argumentatif berdasarkan Alquran dan Hadis Nabi. Tulisan ini membahas tentang status hadis nabi terkait arah kiblat serta relevansi hadis arah kiblat terhadap ilmu falak. Jenis penelitiannya adalah tematik, dan pendekatan yang digunakan adalah kritik sanad dan matan untuk melihat derajat sanad dan matan suatu hadits sehingga dapat atau tidak dapat digunakan sebagai hujjah (bukti) dalam pengambilan keputusan hukum (istinbath). Hadis-hadis tentang arah kiblat yang ditemukan kemudian diseleksi, dan ada dua hadits yang dianggap memenuhi kriteria dan representasi dari sejumlah hadits yang ditemukan. Dalam tulisan ini ditemukan bahwa hadis yang membahas tentang arah kiblat adalah shahih dari sanad dan matan sehigga dapat dijadikan landasan hukum, sedangkan relevansi hadis arah kiblat dengan ilmu falak dapat diketahui penerapan hadis arah menentukan arah kiblat dapat dilakukan dengan 2 cara dalam ilmu falak yaitu dengan metode bayang-bayang kiblat dan azimut titik utara.
References
Azami, M.M, Menguji Keaslian hadits-hadits hukum , Jakarta:Pustaka Firdaus, 2004.

Badawi, Abdurrahman, Mausu'ah al-Mustasyriqin, Bairut: Daar al-Ilmi al-Malayin, 1989.

Mansur, Khalid bin, al-'Uyub al-Manhajiah fii Kitabat al-Mustasyriq Schacht al-Muta'alliqah bi as-Sunnah an-Nabawiyah,tt.: tth.

Muhtador, Moh., Melacak Otensitas Hukum Islam dalam Hadis Nabi,Al Quds:Jurnal Studi Alquran dan Hadis, Volume 1 Nomor 1, 2017.

Schacht, Joseph, An Introduction to Islamic Law, Oxford: Clarendom Press, 1964.

Setiawan, Cahya Edi, "Studi Hadis: Analisis terhadap Pemikiran Schacht dan Azami", Zawiyah: Jurnal Pemikiran Islam, Vol. 4, Nomor 1, Juli 2018.

Siregar, Ilham Ramadan ,"Kritik Sejarah terhadap Hadis Menurut Ahmad Amîn Analisis terhadap Kitab Fajr al-Islâm", al-Tahdis: Journal of Hadith Studies, Vol. 1, No. 1, Januari-Juni 2017.

Yaqub, Ali Mustafa, Kritik Hadis, Jakarta: Pustaka Firdaus, 1995.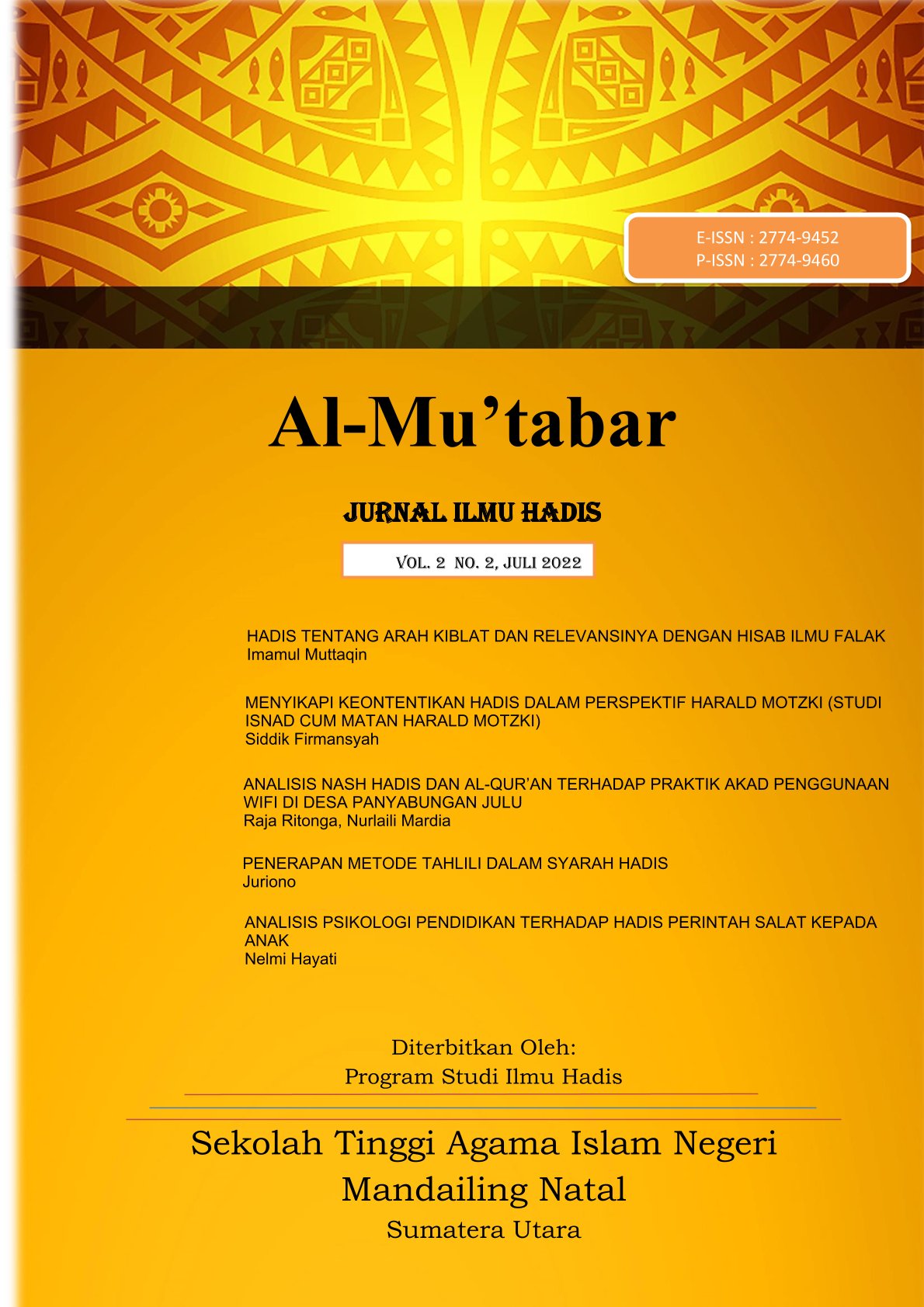 How to Cite
Muttaqin, I. (2022). HADIS TENTANG ARAH KIBLAT DAN RELEVANSINYA DENGAN HISAB ILMU FALAK. Al-Mu'tabar, 2(2), 1-25. https://doi.org/10.56874/jurnal ilmu hadis.v2i2.982