PEMBINAAN SENI BACA ALQURAN PADA ANAK-ANAK DI DESA LUMBAN PASIR
Suryadi Nasution

STAIN MANDAILING NATAL

Mhd. Yusri Nasution

STAIN MANDAILING NATAL
Keywords:
Seni Baca Alquran, anak-anak desa lumban pasir
Abstract
The aim of this Study is to know the process of developing teaching learning of holy Qur'an in Lumban Pasir Village. This research used Qualitative approach by using 3 Instruments, namely, Interview, observation and documentation. The Results of the study show that student's interest and talents for reciting Holy Qur'an are more focused than before. It is happening because the activities plan work consistently. In developing teaching of Holy Qur'an, there are several generations applied various religious activities such as adzan and following MTQ Competitions at various levels.
References
Adhim, Said Abdul. (2012) Nikmatnya Membaca Alquran, Solo: Aqwam
An-Nawawi, Imam. (2005). At-Tibyan: Adab Penghafal Qur'an, Sukaharjo: Maktabah Ibnu Abbas
Al-ghazali. Abd Muqsith, dkk. (2009). Metodologi Studi Alquran, Jakarta: Gramedia
Fathoni, Abdurrahmat. (2011). Metodologi Penelitian dan Teknik Penyusunan Skripsi, Jakarta: Rineka Cipta
Moloeong, Lexy J. (2014). Metode Penelitian Kualitatif, Bandung: Remaja Rosdakarya
Munir, Misbachul. (1997). Pedoman Lagu-Lagu Tilawatil Qur'an, Surabaya: Apollo
Mustaqim, Abdul. (2015). Metode Penelitian Al-Qur'an dan Tafsir. Yogyakarta: Idea press
Nurkancana, Wayan. (1986). Evaluasi Pendidikan, Surabaya: Usaha Nasional
Salim, Muhsin. (2004). Ilmu Nagham Alquran. Jakarta: Kebayoran Widya Ripta
Syah, Muhibin. (1999). Psikologi Pendidikan, Bandung: Remaja Rosdakarya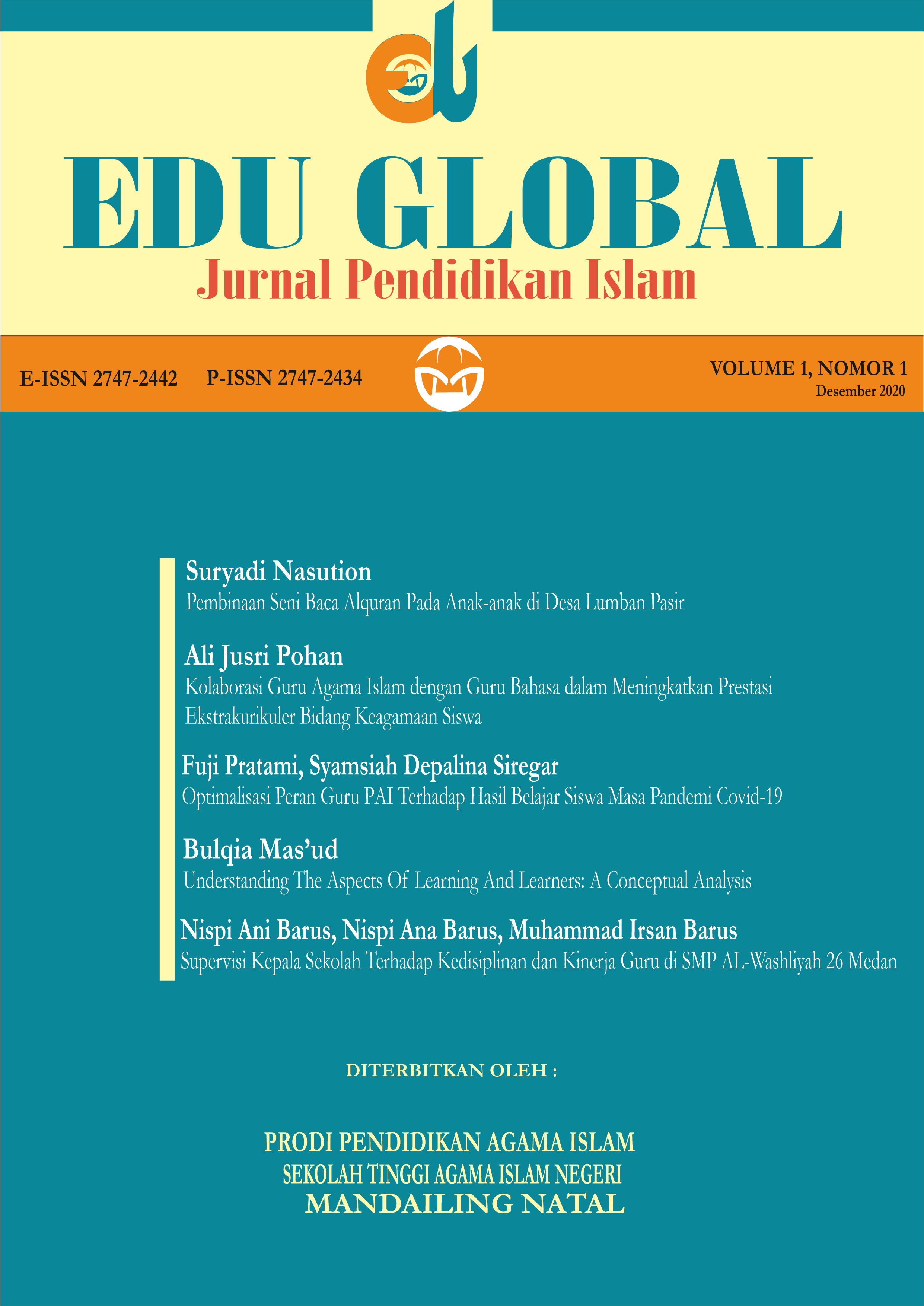 How to Cite
Nasution, S., & Nasution, M. Y. (2020). PEMBINAAN SENI BACA ALQURAN PADA ANAK-ANAK DI DESA LUMBAN PASIR. Edu Global : Jurnal Pendidikan Islam, 1(1), 1-12. Retrieved from https://jurnal.stain-madina.ac.id/index.php/eduglobal/article/view/346
Copyright (c) 2020 Suryadi Nasution, Mhd. Yusri Nasution
This work is licensed under a Creative Commons Attribution 4.0 International License.