KOLABORASI GURU AGAMA ISLAM DENGAN GURU BAHASA DALAM MENINGKATKAN PRESTASI EKSTRAKURIKULER BIDANG KEAGAMAAN SISWA
Ali Jusri Pohan

STAIN MANDAILING NATAL
Keywords:
Teacher Collaboration, Achievement, Religious Extracurricular
Abstract
The purpose of this study was to determine how the collaboration between Islamic religious teachers and language teachers in improving extracurricular achievements in the religious field of students at MAN 2 Padangsidimpuan. This type of research is field research (field research) with qualitative descriptive research methods. Data collection techniques include observation, interviews and documentation. PAI teachers teach students about religious material, Indonesian teachers teach students about grammar, Arabic and English teachers teach students to compile religious texts that are directly related to Arabic and English texts, and teach how to pronounce and intonate them. Supporting factors for collaboration between PAI teachers and language teachers, namely: solid cooperation between teachers in guiding students when there is a competition/MTQ, providing input and ideas to each other
References
Abdulsyani. (1994). Sosiologi Skematika, Teori dan Terapan. Jakarta: Bumi Aksara.
Ahmadi, Abu. (2004). Sosiologi Pendidikan. Jakarta: Rineka Cipta.
Bahri, Syaiful. (1994). Prestasi Belajar dan Kompetensi Guru. Surabaya: Usaha Nasional.
Burhanuddin,Yusak. (2000). Administrasi Pendidikan. Bandung: Pustaka Setia.
Departemen Agama RI. (2007). Undang-Undang Dan Peraturan Pemerintah Republik Indonesia Tentang Pendidikan. Jakarta: Direktoral Jenderal Pendidikan Agama RI.
Moleong, Lexi .J. (2000). Metodologi Penelitian Kualitatif. Bandung: Remaja Rosdakarya.
Nawawi, Hadari. (2000). Administrasi Pendidikan. Jakarta: Gunung Agung.
Nazaruddin. (2007). Manajemen Pembelajaran Pendidikan Agama Islam di Sekolah Umum. Yogyakarta: Teras.
Patiung, Dahlia. (2017). Peran Guru dan Siswa dalam Pembelajaran Bahasa Indonesia Berbasis Pendekatan Komunikatif, Vol. VI No. 1, Januari-Juni 2017.
Soekanto, Soerjono. (2013). Sosiologi Suatu Pengantar, Ed. Revisi.Jakarta: Rajawali Pers.
Sugiyono. (2012). Metode Penelitian Kuantitatif Kualitatif dan R&D. Bandung : Alfabeta.
Tafsir, Ahmad. (2008). Strategi Meningkatkan Mutu Pendidikam Agama Islam di Sekolah. Bandung : Maestro..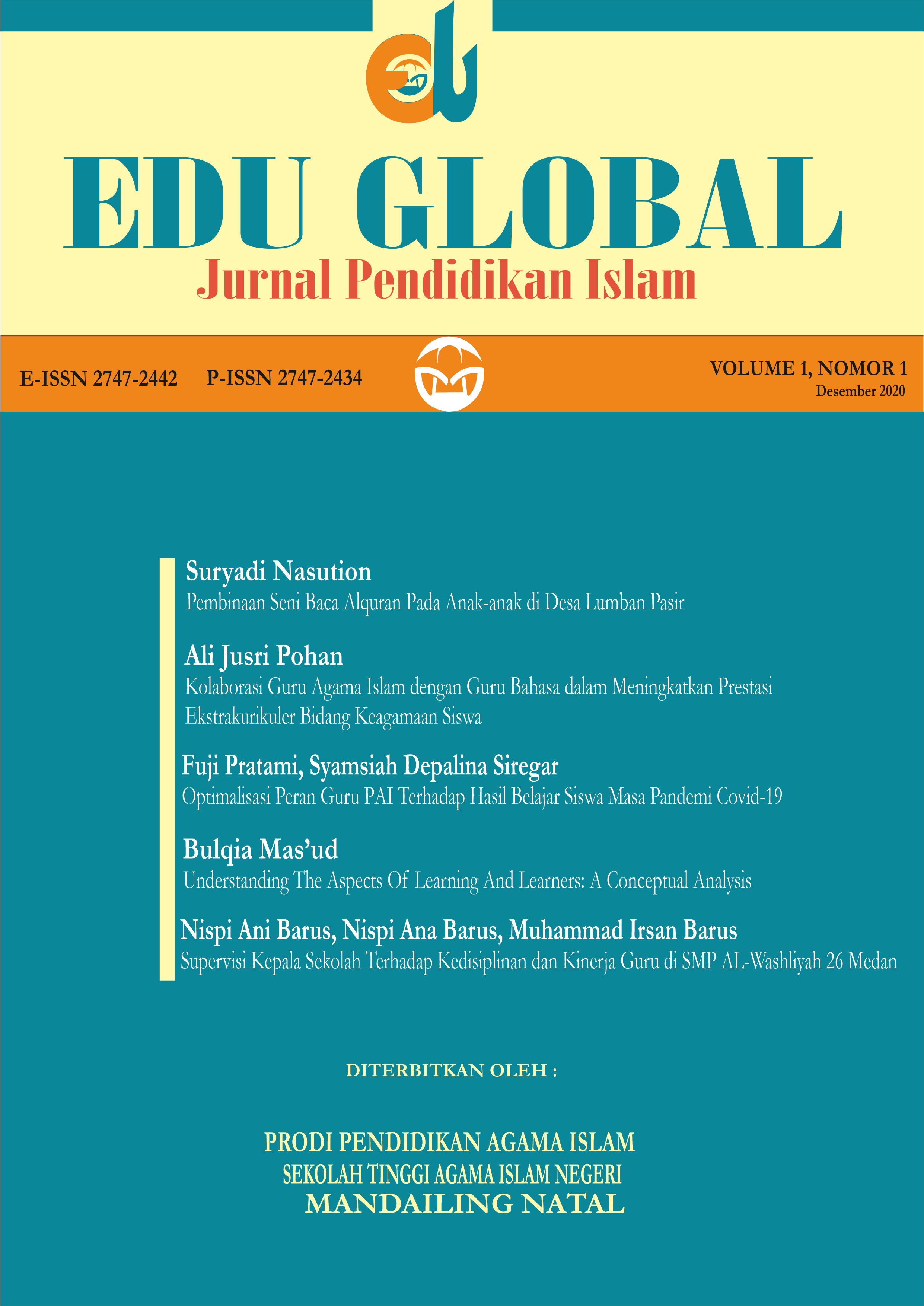 How to Cite
Pohan, A. J. (2020). KOLABORASI GURU AGAMA ISLAM DENGAN GURU BAHASA DALAM MENINGKATKAN PRESTASI EKSTRAKURIKULER BIDANG KEAGAMAAN SISWA. Edu Global : Jurnal Pendidikan Islam, 1(1), 13-24. https://doi.org/10.2005/eduglobal.v1i1.347
Copyright (c) 2020 Ali Jusri Pohan
This work is licensed under a Creative Commons Attribution 4.0 International License.