SUPERVISI KEPALA SEKOLAH TERHADAP KEDISIPLINAN DAN KINERJA GURU DI SMP AL-WASHLIYAH 26 MEDAN
Nispi Ani Barus

Universitas Islam Negeri Sunan Kalijaga

Nispi Ana Barus

Universitas Negeri Medan

Muhammad Irsan Barus

STAIN MANDAILING NATAL
Keywords:
supervision, performance, discipline
Abstract
This research aims to explore the training and teacher performance by headmaster supervision program.The research approach of this study uses qualitative research with using phenomenology approach.The headmaster of Junior High School in SMP al washlyah 26 marelan has the best planning program and concrete indicator in performing his function as an supervisor.The teacher performance is good enough during teaching and learning process. It can be seen from learning standard that was done. Teacher training is built by the headmaster using active communication so that it can improve the relationship of the head master and the others teacher being good relationship.
References
H. Mukhtar. (2009). Orientasi Supervisi Pendidikan, Jakarta: Gaung Persada
Syafaruddin dkk. (2014). Ilmu Pendidikan Islam: Melejitkan Potensi Budaya Umat, Jakarta: Hijir Pustaka Utama
Doni Koesoema A. (2007). Pendidikan Karakter: Strategi Mendidikan Anak Di Zaman Global, Jakarta: Grasindo
E. Mulyasa. (2007). Menjadi Kepala Sekolah Professional, Bandung: Remaja Rosda Karya
Subari. (2004). Supervise Pendidikan: Dalam Rangka Perbaikan Situasi Mengajar, Jakarta: Bumi Aksara
Kartini Kartono. (2002). Pemimpin Dan Kepemimpinan, Jakarta: Raja Grapindo Persada
Ketut Jelantik. (2015). Menjadi Kepala Sekolah yang Profesional, Yogyakarta: Deepublish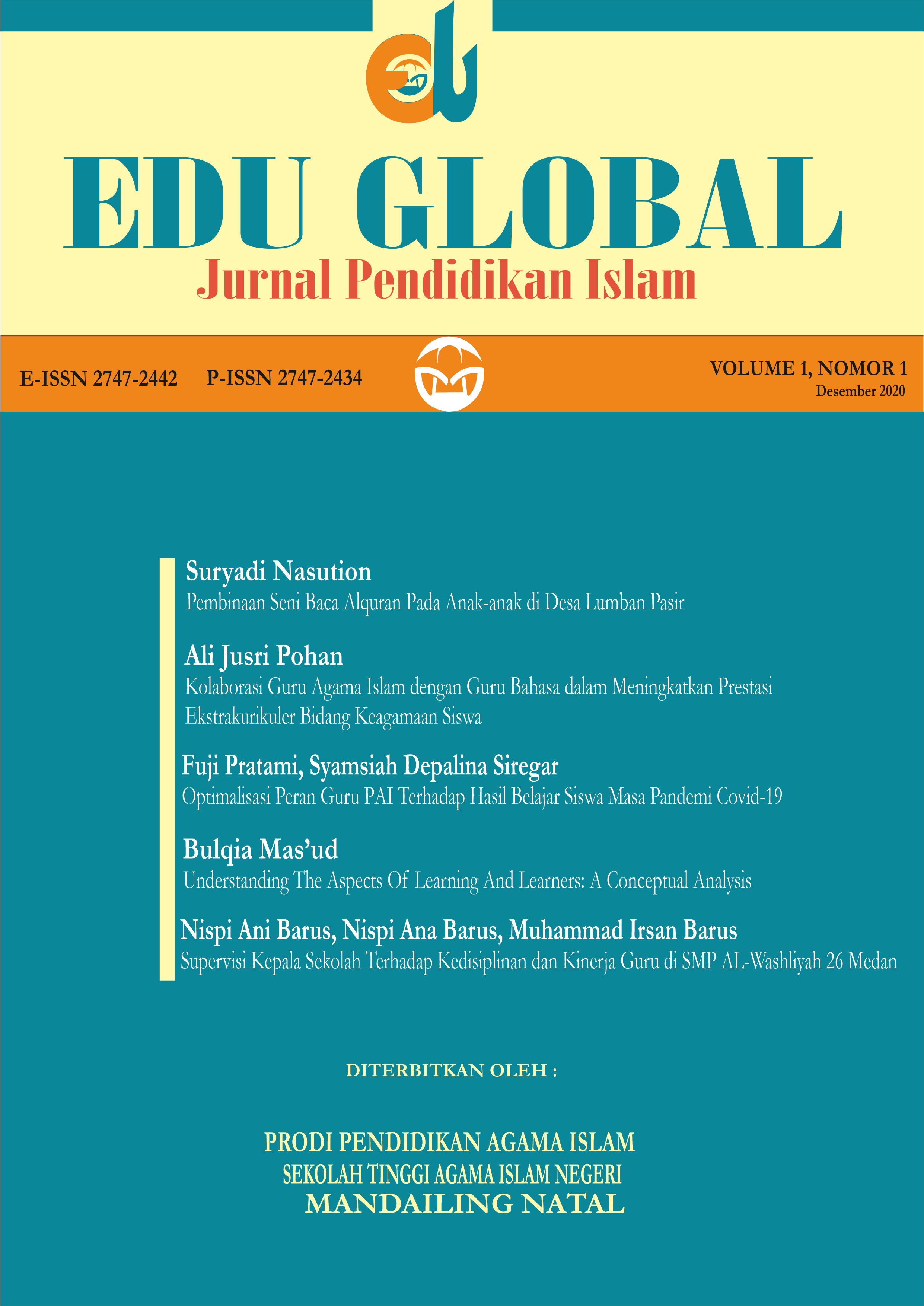 How to Cite
Barus, N. A., Barus, N. A., & Barus, M. I. (2020). SUPERVISI KEPALA SEKOLAH TERHADAP KEDISIPLINAN DAN KINERJA GURU DI SMP AL-WASHLIYAH 26 MEDAN. Edu Global : Jurnal Pendidikan Islam, 1(1), 44-59. Retrieved from https://jurnal.stain-madina.ac.id/index.php/eduglobal/article/view/374
Copyright (c) 2020 Nispi Ani Barus, Nispi Ana Barus, Muhammad Irsan Barus
This work is licensed under a Creative Commons Attribution 4.0 International License.