PENGARUH PEMBELAJARAN SINEKTIK TERHADAP PENINGKATAN KEMAMPUAN BERPIKIR KREATIF MAHASISWA PAI DI IAI TAFAQQUH FIDDIN DUMAI
Maisuhetni Maisuhetni

Program Studi Pendidikan Agama Islam Fakultas Tarbiyah Institut Agama Islam Tafaqquh Fiddin Dumai
Keywords:
synectic learning; creative thinking ability; PAI students
Abstract
The main focus of this study was the lowerness of creative thinking ability in PAI students. One strategy that can be implemented to improve PAI students' creative thinking ability is Synectic Learning. In the learning process, the student's face with an out of mind problems, give a chance to create a new way when look something, self expression, and approach the problems. The aim of this study was to dercribe the effect of synectic learning through the improving creative thingking ability in PAI students. This study used quasy-experimental design with the non equivalent control group. The students in experimental group have synectic learning while the students in control group have conventional learning. The population of this study was the S1 PAI students of IAI Tafaqquh Fiddin in second semester academic year 2020/2021. The sample taken in this study was done with use purposive sample technique. Among 5 grades, e grade was choosen as the reaserch sample they are grade E as experimental group and grade D as control group. This study used the creative thinking ability test and observation sheet instruments. The data from pretest and posttest result was analyzed quantitatively to find the mean difference of the gain of students' creative thinking ability in experimental and control groups. According to the data analysis results obtain that the average of normalized-gain in experimental group with synectic learning was significantly better than that the average of normalized-gain control group with conventional learning.
References
Bruce, Marsha & Emily. (2009). Model of Teaching (Model-model Pengajaran). Penerbit: Pustaka Belajar.
Ernawati, L. (2017, April). Pengembangan High Order Thinking (HOT) Melalui Metode Pembelajaran Mind Banking Dalam Pendidikan Agama Islam. In 1st International Conference on Islamic Civilization ans Society (ICICS) (pp. 189-201).
Hendrayana, A., (2008). Pengembangan Multimedia Interaktif Untuk Meningkatkan Kemampuan Berpikir Kritis dan Kreatif Siswa SMP dalam Matematika.Tesis PPS UPI. Bandung: Tidak Dipublikasikan.
Joyce, B., Weil, M., & Calhoun, E. (2011). Model of Teaching. New York: Prentice-Hall.
Kampylis, P.G., Saariluoma, P., & Berki, E. (2011). Fostering Creative Thinking Wah do Primary Teachers Recommend? HeJMEC (Hellenic Journal of Music, Education, and Culture. 2, (4), 46 – 64.
Marzuki. (2010). Faktor yang Mempengaruhi Belajar. Modul: Kependidikan Guru dalam Jabatan, PGSD.
Maulana. (2012). Alternatif Pembelajaran Matematika dengan Pendekatan Metakognitif untuk Meningkatkan Kemampuan Berpikir Kritis Mahasiswa PGSD. Tesis PPS UPI. Bandung: Tidak Dipublikasikan
Munandar, S. C. U. (1985). Mengembangkan Bakatdan Kreativitas Anak Sekolah. Jakarta: PT. Gramedia.
Nasution, E. Y. P. (2013, October). Meningkatkan Kemampuan dan Disposisi Berpikir Kreatif Siswa melalui Pendekatan Open-Ended. In Prosiding Seminar Nasional Matematika VII UNNES (Vol. 26, pp. 107-116).
Nasution, M., & Sabri, S. (2020). Upaya Guru Agama dalam Meningkatkan Mutu Pembelajaran Pendidikan Agama Islam di MTsN 3 Padangsidimpuan. Darul Ilmi: Jurnal Ilmu Kependidikan dan Keislaman, 8(2), 181-194.
Pratami, F., & Siregar, S. D. (2020). Optimalisasi Peran Guru Pai Terhadap Hasil Belajar Siswa Masa Pandemi Covid-19. Edu Global: Jurnal Pendidikan Islam, 1(1), 25-35.
Puccio, G., Murdock, M. & Mance, M. (2007) Creative leadership: Skills that drive change. Thousand Oaks, CA: Sage.
Rahmat, M. (2012). Corak Berpikir Keagamaan Mahasiswa. Jurnal Pendidikan Agama Islam, 10, 13-37.
Rofi`udin, A. & Darmiati, Z. (1999). Pendidikan Bahasa dan Sastra Indonesia di Kelas Tinggi. Jakarta: Depdikbud.
Ruindungan, M.G. (1996). Model Bimbingan Peningkatan Kreativitas Siswa Sekolah Menengah Umum (Studi Kuasi eksperimental Upaya Bantuan Pengembangan Kemampuan Berpikir Kreatif dan Sikap Kreatif pada SISwa SMUK Dago Bandung). Disertasi Doktor pada PPS IKIP Bandung: Tidak Diterbitkan.
Siregar, N. F., & Nasution, E. Y. P. (2019). Pembelajaran Matematika Berbasis Higher Order Thinking Skills. In Curup Annual Conference on Math (CACM) (Vol. 1, No. 1, pp. 21-26).
Siregar, N., & Siregar, N. F. (2020). Pengaruh Metode Snowball Throwing Terhadap Prestasi Belajar Pendidikan Agama Islam Siswa SMAN 4 Padangsidimpuan. Darul Ilmi: Jurnal Ilmu Kependidikan dan Keislaman, 8(2), 213-222.
Sugilar, H. (2012). Meningkatkan Kemampuan Berpikir Kreatif dan Disposisi Matematik Siswa Madrasah Tsanawaiyah Pembelajaran Geometrik (Doctoral dissertation, Universitas Pendidikan Indonesia).
Supriadi, D. & Mulyana, R. (2012). Menggagas Pembaharuan Pendidikan IPS. Bandung: Remaja Rosdakarya.
Utari, S. (2010). Berpikir dan Disposisi Matematik: Apa, Mengapa, dan Bagaimana Dikembangkan pada Peserta Didik. FMIPA UPI.
Uyanto, S,. (2009). Pedoman Analisis Data dengan SPSS. Yogyakarta: Graha Ilmu.
Wahidin.(2011). Kreatif Membelajarkan Matematika. [Online]
Wahyudin.(2008). Pembelajaran dan Model-Model Pembelajaran. Bandung: UPI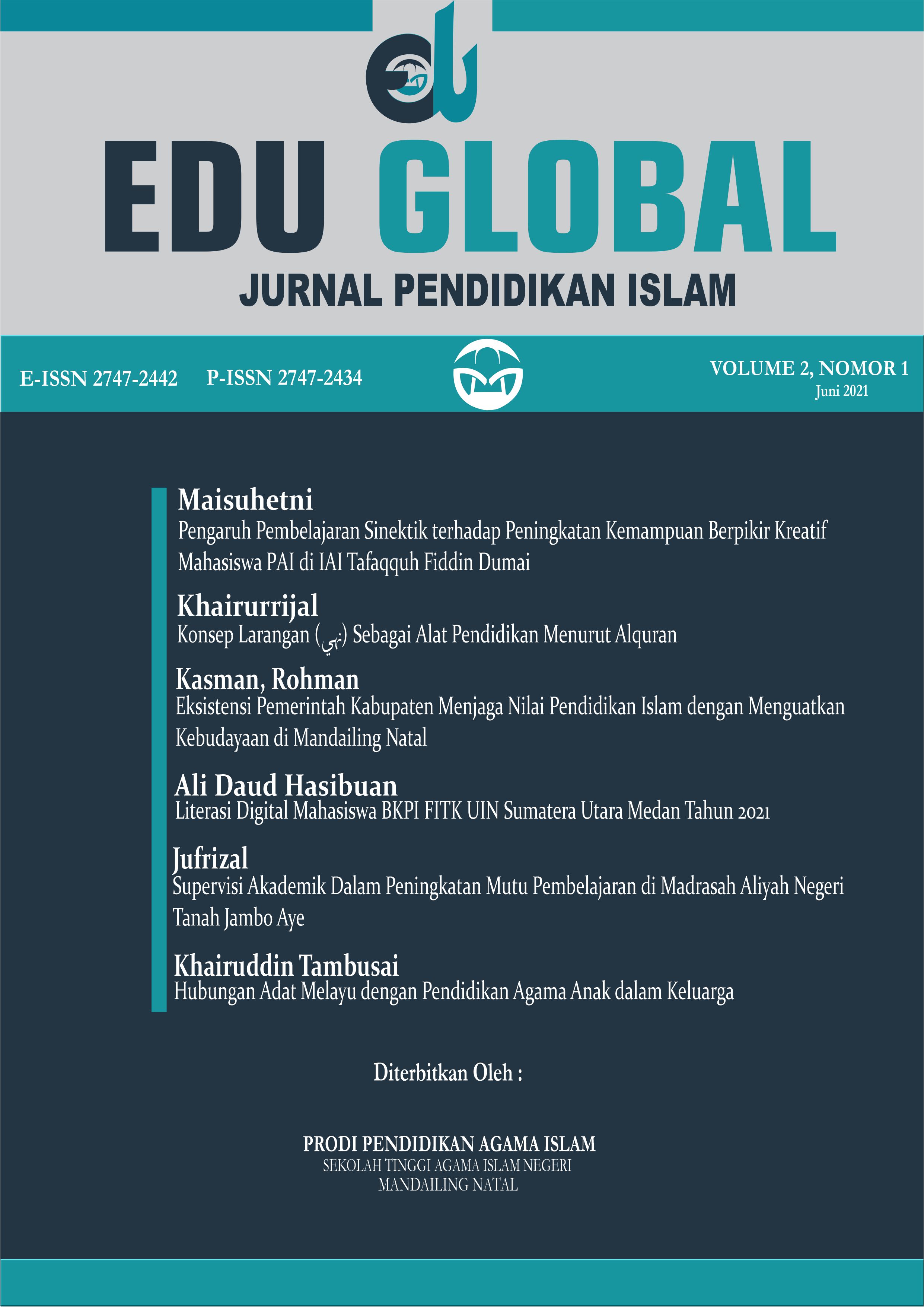 How to Cite
Maisuhetni, M. (2021). PENGARUH PEMBELAJARAN SINEKTIK TERHADAP PENINGKATAN KEMAMPUAN BERPIKIR KREATIF MAHASISWA PAI DI IAI TAFAQQUH FIDDIN DUMAI. Edu Global : Jurnal Pendidikan Islam, 2(1), 1-18. https://doi.org/10.56874/eduglobal.v2i1.414
Copyright (c) 2021 Misuhetni Maisuhetni
This work is licensed under a Creative Commons Attribution 4.0 International License.