SUPERVISI AKADEMIK DALAM PENINGKATAN MUTU PEMBELAJARAN DI MADRASAH ALIYAH NEGERI TANAH JAMBO AYE
Jufrizal Jufrizal

Institut Agama Islam Al-Muslim Aceh
Keywords:
Academic supervision, , learning quality
Abstract
To make teacher to be more professional workforce, it needs coaching in form of continuous and sustainable supervision. In additions, their professional performance is also need to be paid attention, respected, and acknowledged. In creating the educator's competency, it needs academic supervision which is aimed to give service and assistance to develop a situation of teaching learning in a classroom. The essence of academic supervision is to coach the teacher to increase the quality of learning process. Therefore teacher is the core in learning which consists of  lessons/materials, syllabus, choosing the strategy/method/technique of learning, the use of media and information technology in learning, assessing the process and the result of learning and class action research. Academic supervision in each school is inevitably needed to increase the quality of learning, result of students' learning, and curriculum in Madrasah Aliyah Negeri Tanah Jambo Aye.
References
Asmani, J. M. (2012). Tips Efektif Supervisi Pendidikan Madrasah . Jogjakarta: Diva Press.
Atmodiwiro, S. (2000). Manajemen Pendidikan Indonesia. Jakarta: Ardadizya Jaya.
E.Mulyasa. (2011). Manajemen & Kepemimpinan Kepala Sekolah. Jakarta: Bumi Aksara.
Herebuddin. (2009). Administrasi & Supervisi Pendidikan. Bandung: Pustaka Setia.
Iskandar. (2009). Metodologi Penelitian Kualitatif. Jakarta: Gaung Persada.
Iskandar, M. d. (2009). Orientasi Baru Supervisi Pendidikan. Jakarta: GP Press.
Mulyasa, E. (2004). Kurikulum Berbasis Kompetensi Konsep, Karakteristik dan Implikasi. Bandung: Remaja Rosda Karya.
Sagala, S. (2010). Supervisi Pembelajaran. Bandung: Alfabeta.
Sallis, E. (2006). Total Quality Manajement. Yogyakarta: Ircisod.
Sukmanita, N. S. (2001). Pengembangan Kurikulum Teori dan Praktek. Bandung: Remaja Rosda Karya.
Usman, H. (2006). Manajemen Teori, Praktek dan Riset Pendidikan. Jakarta: Bumi Aksara.
Wahjokusumidjo. (1999). Kepemimpinan Kepala Sekolah. Jakarta: Raja Grafindo.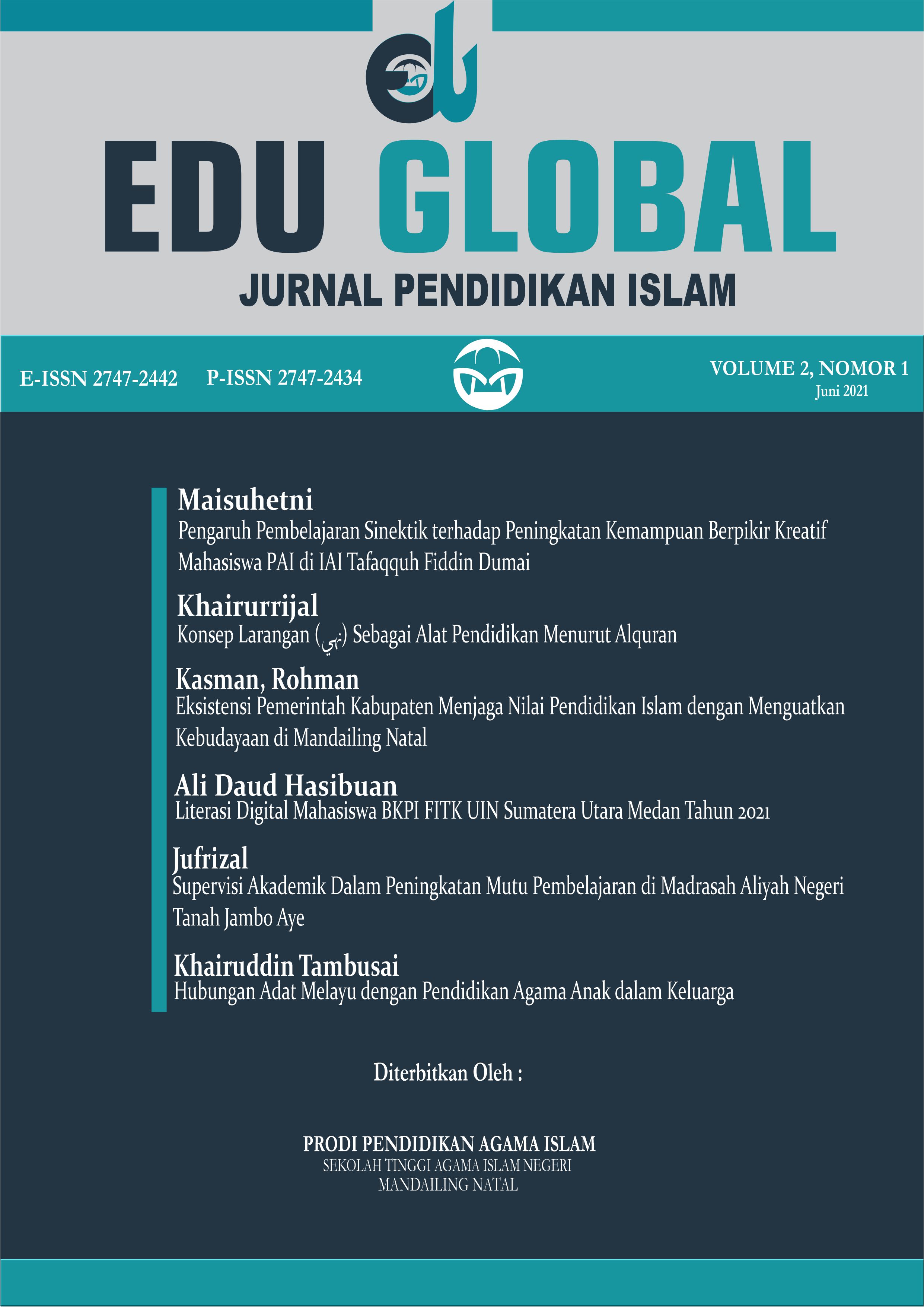 How to Cite
Jufrizal, J. (2021). SUPERVISI AKADEMIK DALAM PENINGKATAN MUTU PEMBELAJARAN DI MADRASAH ALIYAH NEGERI TANAH JAMBO AYE. Edu Global : Jurnal Pendidikan Islam, 2(1), 49-62. https://doi.org/10.56874/eduglobal.v2i1.446
Copyright (c) 2021 Jufrizal Jufrizal
This work is licensed under a Creative Commons Attribution 4.0 International License.