PEMIKIRAN HADIS Dr. SULIDAR M.Ag.
Winda Sari

UIN Sumatera Utara
Keywords:
Keywords: Thought, Hadith, Sulidar, Kata kunci: Pemikiran, Hadis, Sulidar
Abstract
ABSTRACT                                                                
Sulidar is one of the scholars of Hadith in North Sumatra. His thoughts in the field of hadith are about the meaning of hadith and sunnah. Some scholars distinguish between the meaning of Hadith and Sunnah such as T.M. Hasbi ash-Shiddieqy, Sulidar made absolutely no difference in defining Hadith and Sunnah. He unites them in one sense, namely words, deeds, and taqrir which were leaned on the Prophet Muhammad. In this case, what he meant by Hadith and Sunnah after Muhammad was appointed as a prophet and apostle, namely after the age of 40 (forty) years. Literature review research methods. The purpose of this research is to find out the thoughts of Sulidar Hadith.
ABSTRAK
Sulidar salah saorang pengkaji Ilmu Hadis di Sumatera Utara. Pemikirannya dalam bidang hadis adalah mengenai pengertian hadis dan sunnah. Sebagian ulama membedakan pengertian Hadis dan Sunnah seperti T.M. Hasbi ash-Shiddieqy, Sulidar sama sekali tidak membuat perbedaan dalam mendefenisikan Hadis dan Sunnah. Ia menyatukannya dalam satu pengertian, yaitu perkataan, perbuatan, dan taqrir yang disandarkan kepada Rasulullah saw. Dalam hal ini, yang dimaksudkannya dengan Hadis dan Sunnah setelah Muhammad diangkat sebagai nabi dan rasul, yaitu setelah berumur 40 (empat puluh) tahun. Metode penelitian kajian pustaka. Tujuan penelitian ini untuk mengetahui pemikiran Hadis Sulidar.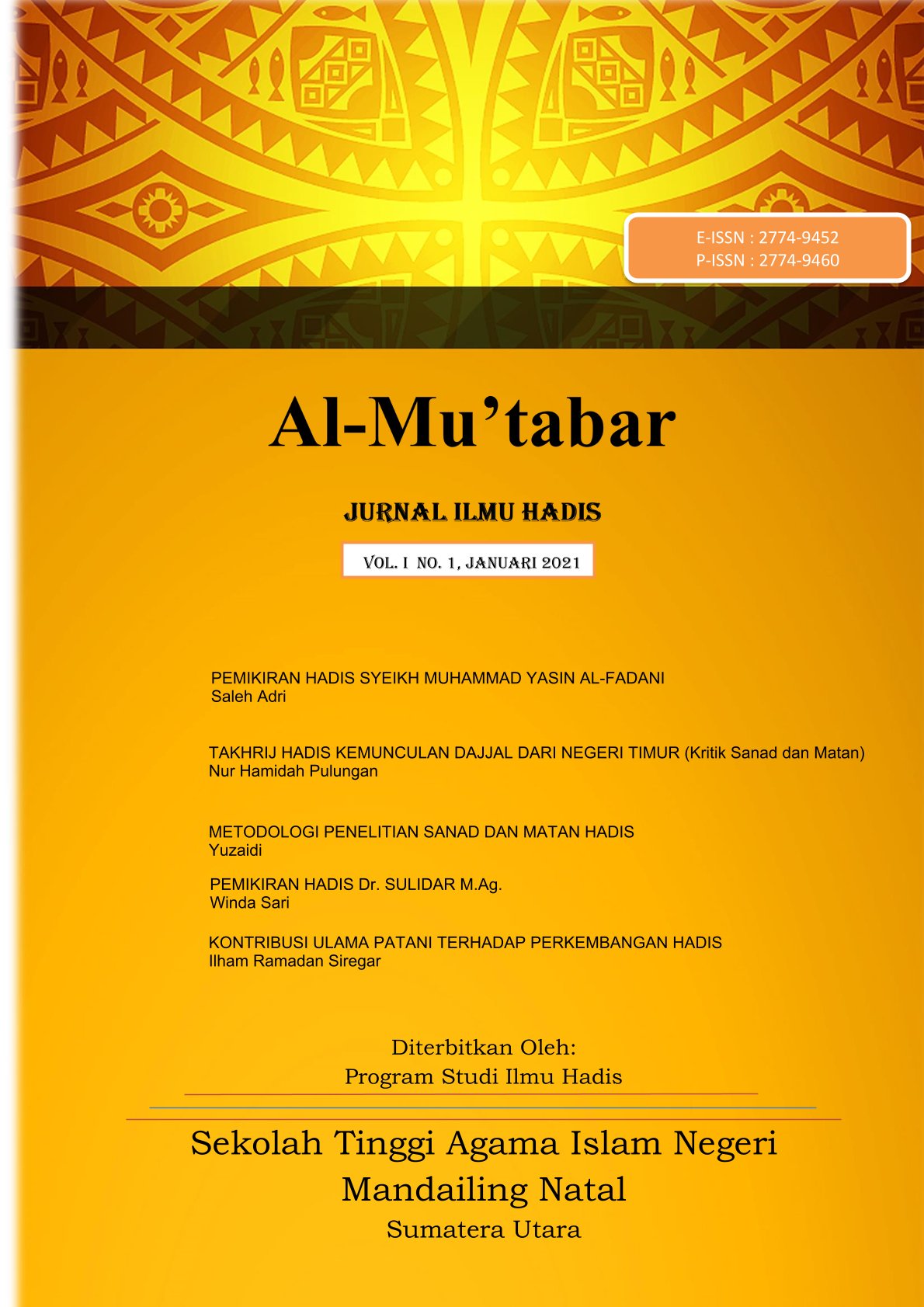 How to Cite
Winda Sari. (2021). PEMIKIRAN HADIS Dr. SULIDAR M.Ag. Al-Mu'tabar, 1(1), 30-41. https://doi.org/10.56874/almutabar.v1i1.384