TAKHRIJ HADIS KEMUNCULAN DAJJAL DARI NEGERI TIMUR (Kritik Sanad dan Matan)
Nur Hamidah Pulungan

Sekolah Tinggi Agama Islam Negeri Mandailing Natal
Keywords:
Keywords: Takhrij, Hadith, Dajjal, Kata kunci: Takhrij, Hadis, Dajjal
Abstract
ABSTRACT                                                                
This study aims to identify the quality of the sanad and hadith regarding the emergence of the Dajjal in human form from the descendants of the Bani Adam who have powers like God and have been denied by some groups such as Mu'tazilah. The controversy regarding the status of the Prophet's hadith tends to be high against those of a futuristic nature because not all scientific facts can and have succeeded in proving it like the arrival of the Dajjal. The analysis of sanad criticism and hadith observations in this study uses the hadith takhrij method. The result was that no hadiths were found related to research that had absolute validity based on their knowledge or eyes.
.
ABSTRAK
Penelitian ini bertujuan mengidentifikasi kualitas sanad dan hadis mengenai kemunculan Dajjal dalam bentuk manusia dari keturunan Bani Adam yang memiliki kekuatan layaknya Tuhan telah diingkari sebagian golongan seperti Mu'tazilah. Kontroversi penilaian terhadap status hadis Nabi cenderung tinggi terhadap hadis yang bersifat futuristik karena tidak semua fakta ilmiah bisa dan telah berhasil membuktikannya seperti halnya kedatangan Dajjal. Analisis kritik sanad dan matan hadis penelitian ini menggunakan metode takhrij hadis. Hasilnya tidak ada ditemukan hadis terkait penelitian yang berstatus sahih mutlak berdasarkan sanad maupun matannya.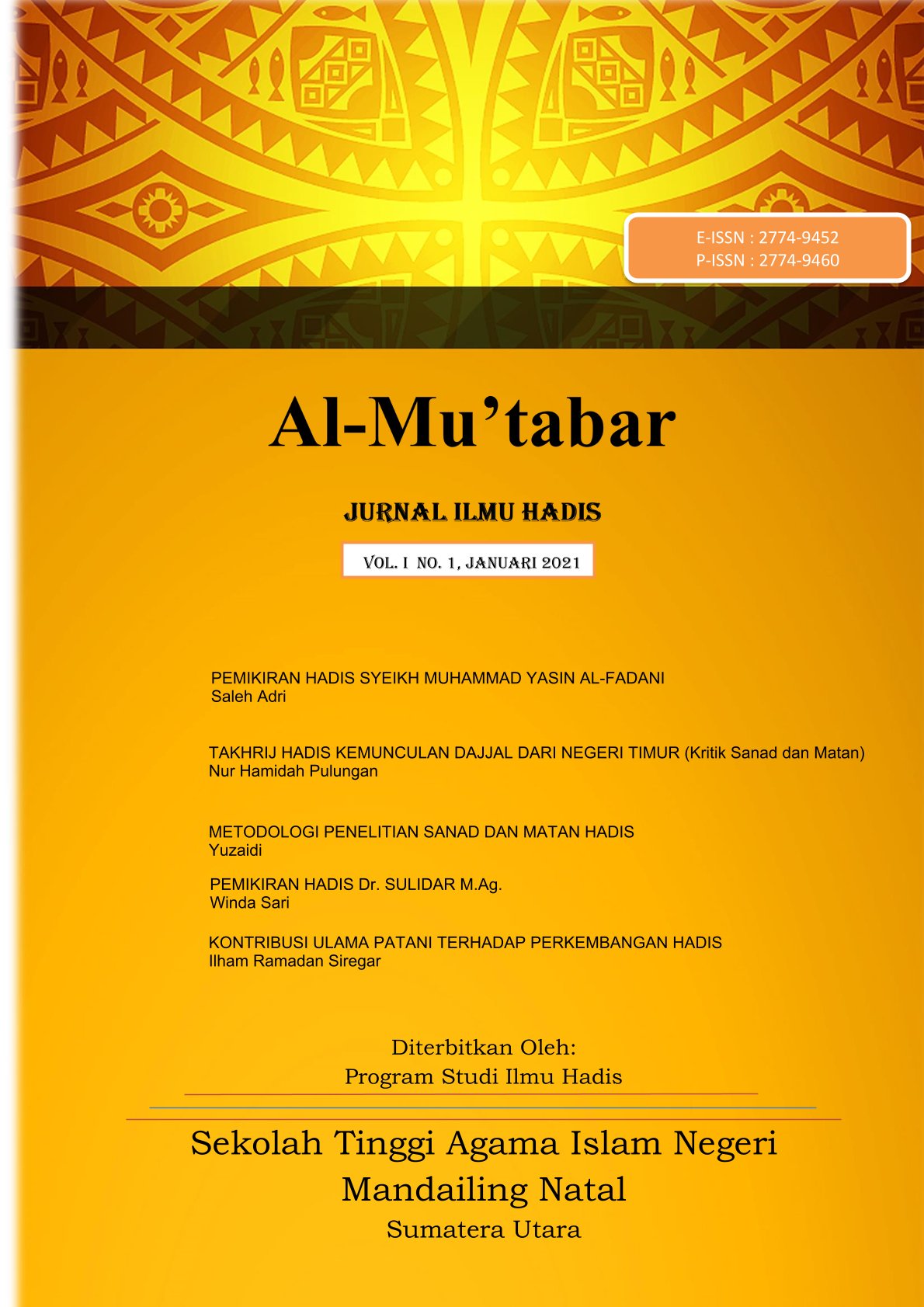 How to Cite
Pulungan, N. H. (2021). TAKHRIJ HADIS KEMUNCULAN DAJJAL DARI NEGERI TIMUR (Kritik Sanad dan Matan). Al-Mu'tabar, 1(1), 65-85. https://doi.org/10.56874/almutabar.v1i1.386