LITERASI DIGITAL MAHASISWA BKPI FITK UIN SUMATERA UTARA MEDAN TAHUN 2021
Ali Daud Hasibuan

UIN Sumatera Utara
Keywords:
digital literacy, gender, Alumni
Abstract
This study describes the digital literacy of students BKPI FITK State Islamic University of North Sumatera Utara (UIN-SU) in Medan. Quantitative descriptive method was used in doing this study. There were 191 students BKPI FITK UIN-SU Medan in 2021 being samples for this study. The instrument of this study was questionnaire using a five-likert scales. Data obtaining process was conducted by utilizing google form which was shared to students. The results of study revealed that students' digital literacy score is 70 which means average. The highest aspect of students' digital literacy is safety aspect which shows score 20.68 and the lowest one is skill aspect namely 15.36. Based on sex type, female-students' digital literacy is higher than male-students. Female-students' digital literacy score is 73.19, meanwhile male-students is just 71.48. Moreover, digital literacy of students graduated from public senior high school is higher than students graduated from Islamic boarding school or pesantren. Specifically, the score of the former is 75.14 and the latter is 69.50.
References
MARWAN, S. (2019, SEPTEMBER 26). LITERASI PEMBELAJARAN ONLINE BERKEARIFAN LOKAL. INTERNATIONAL ON EDUCATION, PP. 245-248.
Pangerapan, S. A. (2021, Januari 16). Youtube. Retrieved from Youtube Siberkreasi: https://aptika.kominfo.go.id/2021/01/empat-pilar-literasi-untuk-dukung-transformasi-digital/
Prasetyo, D., Rossyidi, F. R., Rohmadi, Auliyani, U., & Handayani, S. (2018, Juni 30). Keterampilan Literasi Informasi Mahasiswa Menurut Stabdar Kompetensi Literasi Informasi Association of College & Research Libraries [ACRL). Baca: Jurnal Dokumentasi dan Informasi, pp. 37-49, DOI: http://dx.doi.org/10.14203/j.baca.v0i0.346.
Sujana, A., & Rachmatian, D. (2019, Maret 31). Literasi Digital Abad 21 Bagi Mahasiswa PGSD: Apa, Mengapa, dan Magaimana. Current Research in Education: Conference Series Journal, pp. 1-7.
Vhalery, R., Setyastanto, A. M., & Alfiail, S. N. (2021, April 30). Pembelajaran Berbasis Online "Zoom" pada Kesiapan Belajar mahasiswa di Masa pandemi Covid-19. Research and Development Journal of Education, pp. 215-225, DOI: http://dx.doi.org/10.30998/rdje.v7i1.9329.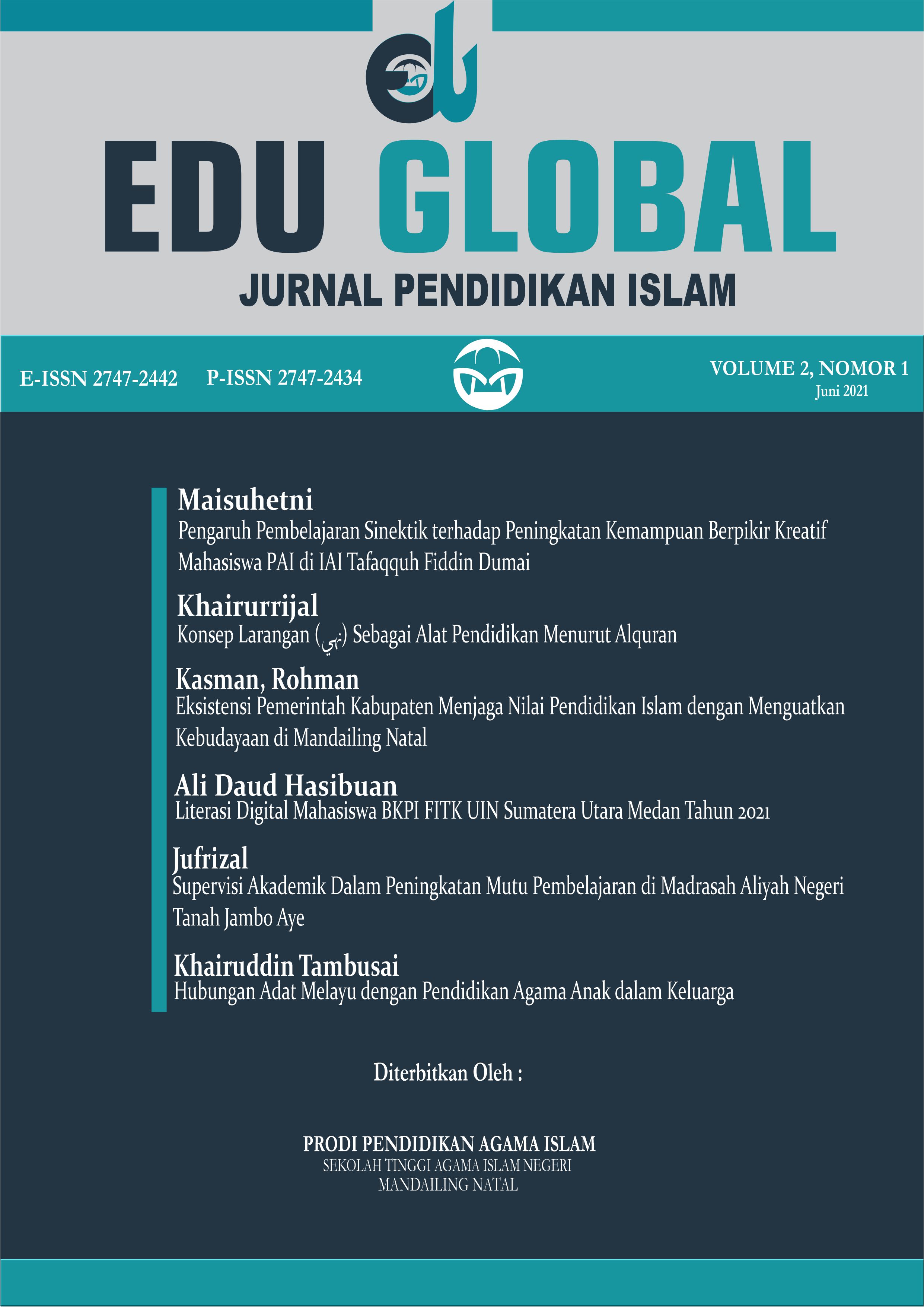 How to Cite
Hasibuan, A. D. (2021). LITERASI DIGITAL MAHASISWA BKPI FITK UIN SUMATERA UTARA MEDAN TAHUN 2021. Edu Global : Jurnal Pendidikan Islam, 2(1), 42-48. https://doi.org/10.56874/eduglobal.v2i1.445
Copyright (c) 2021 Ali Daud Hasibuan
This work is licensed under a Creative Commons Attribution 4.0 International License.