NILAI-NILAI PENDIDIKAN AKHLAK DI DALAM KITAB AL-RISALATUL QUSYARIYAH
Abdul Rohman Nasution

Fakultas Ilmu Tarbiyah Dan Keguruan Universitas Islam Negeri Sunan Kalijaga
Keywords:
Learners, characteristics, hadis
Abstract
Reality in people's lives proves that education is not able to produce quality output evenly. Evidenced by the still many crimes occur in the community, for example stealing, children against their parents, the rise of drug users, murder, adultery, gambling, brawl, sexual harassment, promiscuity, and many other crimes. Drug abuse has increased from time to time in Indonesia This study aims to determine the values ​​of moral education according to Imam Qusyairi in the book Ar Risalatul Qusyairiyah. This type of research is library research and qualitative descriptive approach. Research Results The values ​​of moral education contained in this book are sincere, repentant, trustworthy, patient, happy, glorifying teachers, friendship The application of moral education values ​​in learning both formal, non-formal, and informal is guiding students to have quality faith, piety and noble character.
References
Syafaruddin dkk. Ilmu Pendidikan Islam, 2017. Jakarta: Hijri Pustaka Utama
Ivo Noviana, Kekerasan Seksual Terhadap Anak: Dampak Dan Penanganannya Child Sexual Abuse: Impact And Hendling, Sosio Informa Vol. 01, No. 1, Januari - April, Tahun 2015
Sri Yuni Murtiwidayanti, "Sikap dan Kepedulian Remaja dalam Penanggulangan Penyalahgunaan Narkoba", Jurnal PKS Vol 17 No 1 Maret 2018
Zainal Efendi, Panduan Praktis Menulis Skripsi Tesis dan Desertasi Kualitatif, Kuantitatif dan Kepustakaan, (2015), Medan: CV. Mitra
Zed, Mestika. Metode Penelitian Kepustakaan, 2004 Jakarta: Yayasan Indonesia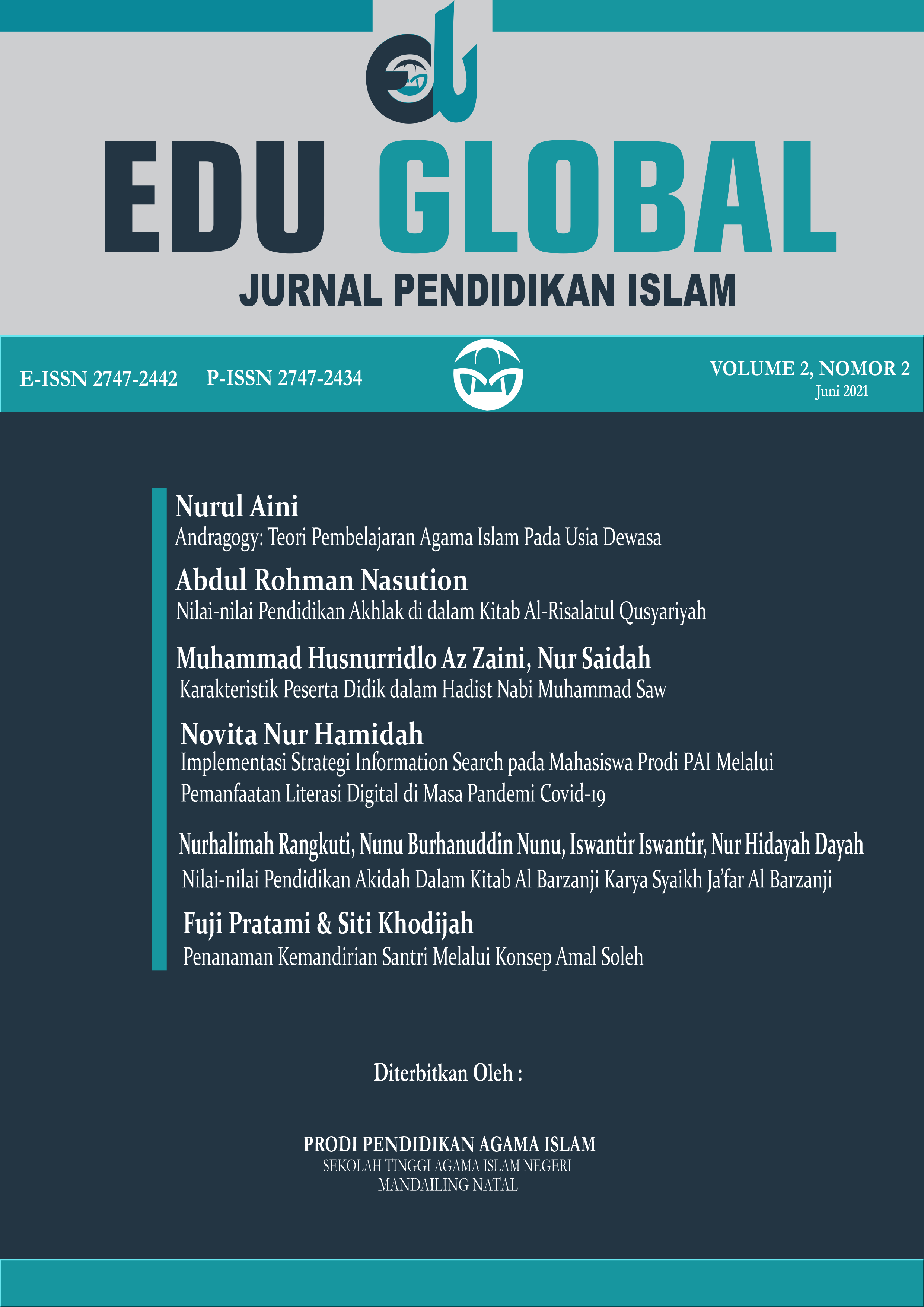 How to Cite
Nasution, A. R. (2021). NILAI-NILAI PENDIDIKAN AKHLAK DI DALAM KITAB AL-RISALATUL QUSYARIYAH. Edu Global : Jurnal Pendidikan Islam, 2(2), 86-95. https://doi.org/10.2005/10.200591
Copyright (c) 2021 abdul rohman Abdul Rohman Nasution
This work is licensed under a Creative Commons Attribution 4.0 International License.