METODOLOGI PENELITIAN SANAD DAN MATAN HADIS
Yuzaidi

UIN Sumatera Utara
Keywords:
Keywords: Methodology, Research, Hadith, Kata kunci: Metodologi, Penelitian, Hadis
Abstract
ABSTRACT                                                                
Hadith is the second source of law for Muslims after the Koran. Because many Hadiths have been narrated by narrators with different degrees, it is necessary to conduct research on Hadith in terms of sanad and Matan so that these traditions can be applied in everyday life. This research method is literature review. The sanad research method is guided by the hadith sohih criteria and observational research consists of avoiding syaz and illat, not contradicting the Koran. This study aims to describe the methodology in the research of hadith sanad and observations so that it is easy for hadith researchers to determine the quality of a hadith.
ABSTRAK
Hadis sumber hukum kedua umat islam setelah Alquran. Karena banyak Hadis yang telah diriwayatkan oleh para perawi dengan derajat yang berbeda-beda maka perlu diadakan penelitian Hadis dari segi sanad dan Matan agar hadis tesebut dapat diaplokasikan dalam kehidupan sehari-hari. Metode penelitian ini adalah kajian pustaka. Metode penelitian sanad berpedoman pada kriteria hadis sohih dan penelitian matan terdiri dari terhindar dari syaz dan illat, tidak bertentangan dengan Alquran. Penelitian ini bertujuan untuk mendeskripsikan metodologi dalam penelitian sanad dan matan hadis agar peneliti hadis mudah untuk menentukan kualitas suatu hadis.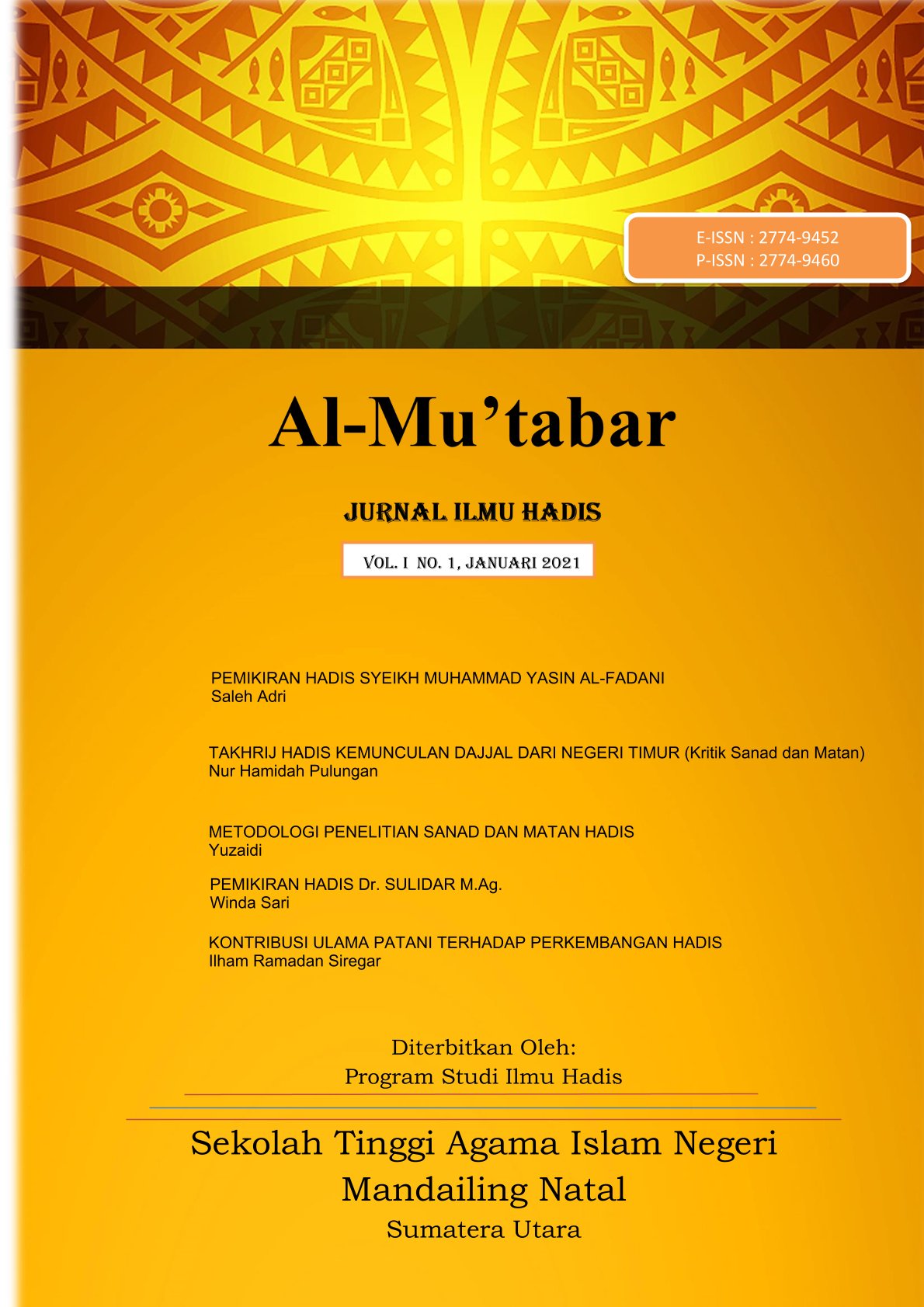 How to Cite
Yuzaidi. (2021). METODOLOGI PENELITIAN SANAD DAN MATAN HADIS. Al-Mu'tabar, 1(1), 42-64. https://doi.org/10.56874/almutabar.v1i1.385