Hermeneutika Kritis Khaled M. Abou El Fadl dalam Rekonstruksi Hukum Islam (Studi Analisis Fikih Otoriter menjadi Otoritatif)
Defel Fakhyadi Fitria Zelfis

STAIN MANDAILING NATAL
Keywords:
Hermeneutika, Hukum Islam, Otoritatif
Abstract
Abstrak
Hukum Islam merupakan hasil pemikiran seseorang dalam memahami teks yang terdapat dalam al-Qur'an dan Hadist yang memungkinkan untuk dilakukan kritik dan interpretasi ulang. Ulama melakukan reinterpretasi terhadap pemahaman hukum Islam untuk menghasilkan hukum yang lebih relevan dengan perkembangan zaman. Hermeneutika merupakan metode yang digunakan oleh beberapa ulama atau cendikiawan muslim dalam memahami hukum Islam sehingga melahirkan sebuah pemahaman hukum Islam yang otoritatif. Fikih otoritatif merupakan sebuah pandangan hukum Islam yang responsif dan dinamis yang terbuka untuk dikritisi atau direformasi ulang sesuai dengan perkembangan zaman.
Kata Kunci: Hermeneutika, Hukum Islam, Otoritatif.
Abstract
Islamic law is a reinterpretation in understanding the texts considered in the Qur'an and Hadith which allows for criticism and reinterpretation. Reinterpretasion of ulama to understanding Islamic law to produce laws that are more relevant to the times. Hermeneutics is a method used by ulama or muslim scholar in understanding Islamic law so as to give birth to an authoritative understanding of Islamic law. Authoritative fiqh is a responsive and dynamic view of Islamic law that is open to criticism or reformation in accordance with the times.
Key Words: Hermeneutika, Islamic Law, Otoritatif.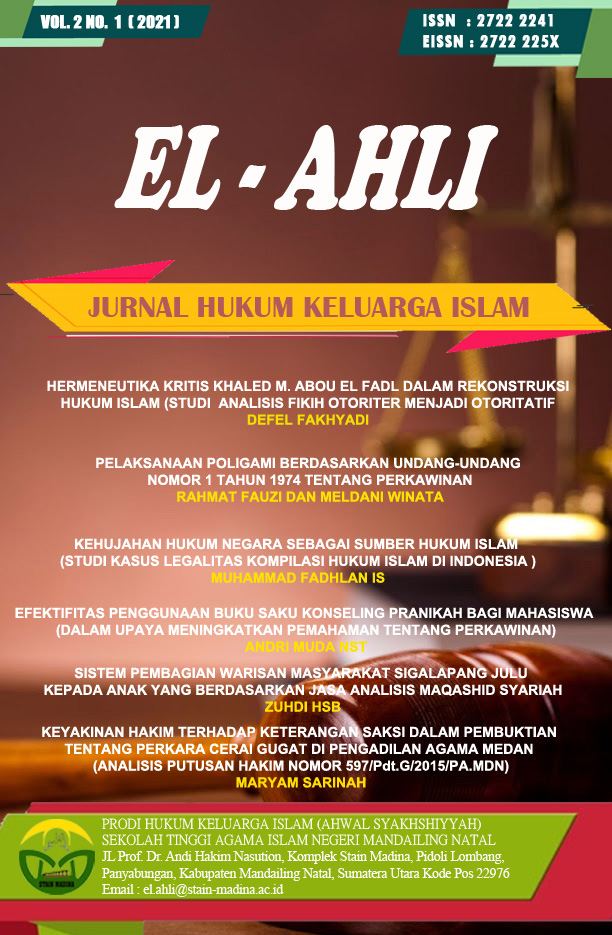 How to Cite
Fitria Zelfis, D. F. (2021). Hermeneutika Kritis Khaled M. Abou El Fadl dalam Rekonstruksi Hukum Islam (Studi Analisis Fikih Otoriter menjadi Otoritatif) . El-Ahli : Jurnal Hukum Keluarga Islam , 2(1), 1-8. Retrieved from https://jurnal.stain-madina.ac.id/index.php/el-ahli/article/view/478